Trusted by 1000+ active shop owners 3 years on market
With WooCommerce Product Tabs Manager You can create any tabs for products that you want. Create one tab for all products or custom tabs for each products. Sort default WooCommerce and custom product tabs as You want. Use WordPress native WYSIWYG editor for create custom product tabs.
Wanna try admin side?
Get access to this plugin's admin and try it from inside. Change things and watch how they work.
Free

download

Premium

Infinite Tabs for WooCommerce products

Global Tabs

Sort and rename default WooCommerce tabs

Sort custom product tabs

Shortcodes and html in tabs

Sort tabs using drag and drop interface

Tabs for specific products

Tabs for specific categories

Question/Answer type of tabs

Products type of tabs

Compatibility with WPML

Different settings for different laguages
3.0.1.7
Enhancement
Compatibility WooCommerce 4.1
3.0.1.6
Enhancement
Compatibility WooCommerce 4.0
3.0.1.5
Fixes
Title for default tabs not changing
3.0.1.4
Enhancement
Specific tabs for each products
Compatible WooCommerce version 3.9.1
Fixes
Global settings do not save
3.0.1.3
Fixes
Compatibility with product specific tabs from other plugins
3.0.1.2
Enhancement
Better compatibility with third party plugins
3.0.1.1
Enhancement
Compatibility version: WordPress 5.3 and WooCommerce 3.8
3.0.1
Enhancement
Possibility to enable/disable Tabs
Possibility to enable/disable Locations
Fixes
Tabs in trash displayed on product page
3.0.0.1
Fixes
Links to BeRocket
Compatibility with other BeRocket plugins
3.0
Enhancement
Locations for tabs with priority
Conditions by Product, On Sale, Bestsellers, Total Sales, Product category, Featured products, Stock status, Product Price, Product age, Product type
New settings design
2.0.3.12
Enhancement
New WooCommerce version compatibility
2.0.3.11
Fixes
2.0.3.10
Fixes
2.0.3.9
Enhancement
Better plugin menu items location
Fixes
2.0.3.8
Fixes
Shortcodes doesn't work in tabs
Updater Fix
2.0.3.7
Enhancement
Option to set different tab name for frontend and backend
Fixes
2.0.3.6
Fixes
2.0.3.5
Enhancement
Recent woocommerce version support
2.0.3.4
Fixes
Compatibility with WooCommerce 3.0.0
WPML Compatibility
2.0.3.3
Fixes
2.0.3.2
Fixes
2.0.3.1
Fixes
2.0.3
Fixes
Added tabs for categories
Question/Answer Question field doesn't work correct
Fix for WPML
2.0.2
Enhancement
Added tabs for categories
Added Question/Answer type of tabs
Added products list type of tabs
2.0.1
Automatically update works only with Account key or Plugin key.
Account key and Plugin key you can find in BeRocket site on My Account page.
Account key you can find on the right side of the page.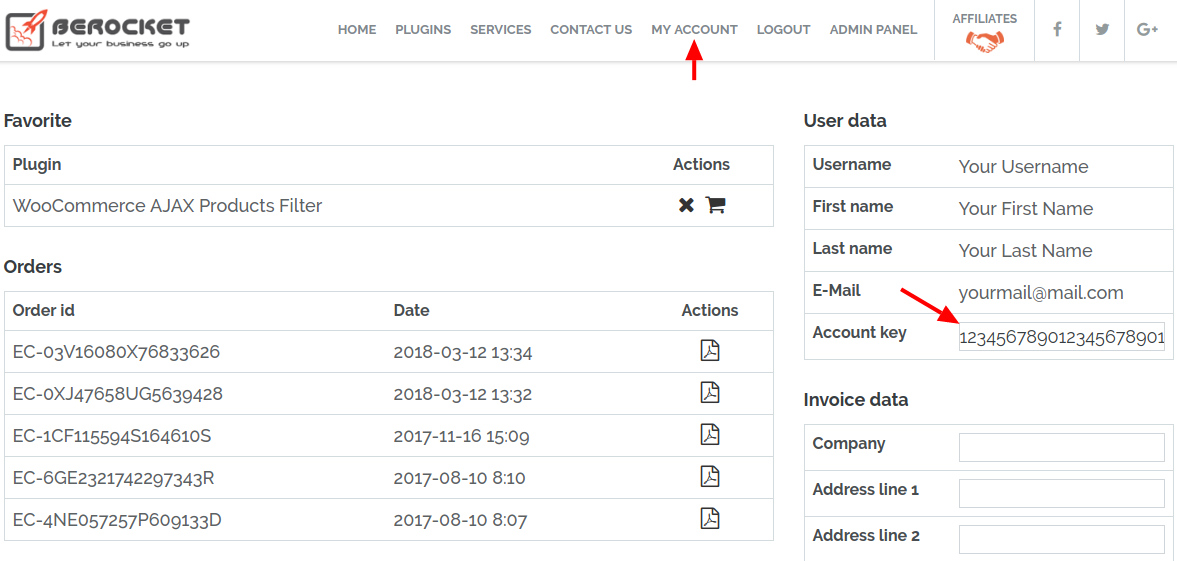 To get Plugin key you need click key symbol on plugin that you need and key will display after plugin list.

Related Plugins: