Trusted by 8,000+ active shop owners 3 years on market
WooCommerce Min/Max Quantity plugin allow you to setup limits for cost of products in orders and in groups and limits for quantity of products, product variations, products in orders and products in group. You can add products and product variations to group. Infinite amount of groups.
Tested with themes:
Abacus
Avada
Bridge
Clean Commerce
Louis
Storefront
Twenty Sixteen
Twenty Seventeen
X
Divi ... and many other
Wanna try admin side?
Get access to this plugin's admin and try it from inside. Change things and watch how they work.
Free

download

Premium

Advanced Conditions to select products

Quantity and cost limits for products

Quantity and cost limits for product variations

Quantity and cost limits for products in cart

Quantity and cost limits for on sale products

Custom message text for each limitation

Display on product pages errors only for this product

Hide checkout buttons on cart page

Quantity and cost limits for products from category

Quantity and cost limits for products from specific attribute

Quantity and cost limits for a specific user role

Quantity and cost limits for group of products

Infinite groups of products

Multiplicity for products in limitation

Use limitation for each product or for products summary

Prevent add to cart when limit is reached

Exclude product from rules
3.0.4
Enhancement
Compatibility WooCommerce 4.0
3.0.3.10
Fixes
Compatibility with WooCommerce 3.9
Value cart for multiplicity
3.0.3.9
Fixes
JavaScript error on limitations edit page. Some scripts do not work on edit page
3.0.3.8
Enhancement
Compatibility version: WordPress 5.3 and WooCommerce 3.8
Fixes
JavaScript error on Limitation edit page
3.0.3.7
Fixes
Compatibility with Sales Report plugin
3.0.3.6
Enhancement
Possibility to enable/disable Min/Max Limitations
value_cart replacement for text
3.0.3.5
Fixes
Links to BeRocket
Compatibility with other BeRocket plugins
Force Minimum Quantity & Multiplicity option in addon
3.0.3.4
Fixes
Notice map_meta_cap for BeRocket plugins
3.0.3.3
Enhancement
Decimal price support
Full OR Limitation option to more flexible settings
3.0.3.2
Enhancement
Compatibility with other BeRocket plugins
Code Security
3.0.3.1
Enhancement
Fixes
Limitation with OR
Notice duplicate
3.0.3
Enhancement
Update BeRocket plugin framework 2.1
Fixes
Limitation for product variation
Fatal error without WooCommerce
3.0.2.1
Fixes
Fatal error with price condition and addon Input Limitation
Limitation error duplication with Input Limitation addon
3.0.2
Enhancement
Attribute summary limitation (attribute must be numeric)
Postmeta summary limitation (Postmeta must be numeric)
Fixes
Font Awesome 5 on some themes
Limitation for variable products
Input limitation
PHP notices
Remove options from grouped products
Displaying errors on shop and product pages
Prevent add to cart
3.0.1.3
Enhancement
Set correct limitation for product quantity input field on product page and cart page
Fixes
Updater fix
Optimizations
Condition fixes
3.0.1.2
Fixes
Some names was changed
Updater compatibility
3.0.1.1
Fixes
3.0.1
Enhancement
Better plugin menu items location
3.0
Enhancement
Display on product page only error related to current product
Copy settings to new limitation from other limitation
Fixes
Error duplicate on s0me themes and on some pages
Better compatibility with different themes
2.0.5.3
Enhancement
Use global text for limitations
Multiple categories in single condition
Fixes
Prevent add to cart feature doesn't display notices for some limitation
2.0.5.2
Fixes
Limitation work incorrect with multiple products
2.0.5.1
Fixes
Multiplicity on products page doesn't work
Groups doesn't work correct
2.0.5
Enhancement
Core Changes
New way to add limitations
Global limitation that will be used for each product
Custom Text for limitation
Multiple correct limitation
Use limitation only for specific variation or product
Fixes
Updater fix
Multiplicity work same as other limitation
2.0.4.12
Fixes
Incorrect error with latest WooCommerce
Checkout buttons not always hides and shows
2.0.4.11
Fixes
Move option in product settings to Inventory tab
Multiplicity doesn't work correct with variations
Multiplicity error was incorrect
Group limitation doesn't work correct with variations
2.0.4.10
Fixes
2.0.4.9
Enhancement
Recent woocommerce version support
Fixes
2.0.4.8
Fixes
options in product settings can be removed with any custom saving
2.0.4.7
Fixes
Fix plugin update
Code optimization
Now product isn't add to cart if quantity of product less than their min quantity
2.0.4.6
Fixes
Activation on installing doesn't work
Delete plugin doesn't work correct
Variation products
2.0.4.5
Fixes
Fixed CSS and License pages in settings
2.0.4.4
Fixes
Variable product fix for woocommerce older then 2.7
2.0.4.3
Fixes
Fix problem with min/max for products
2.0.4.2
Fixes
Fix for saving roles settings
2.0.4.1
Fixes
2.0.4
Enhancement
Added chance making exclude products from rules ( full / partial ).
Added chance to configure rules for roles.
Added multiplicity for buying product, for individual product / for all products.
Added new design for settings page
Fixes
Fix attributes for variables products and function 'prevent_add_to_cart'
Removed PHP notices for WooCommerce 3.0
2.0.3.2
Fixes
Compatibility with WooCommerce 3.0.0
WPML Compatibility
Compatibility with other plugins
Fix option Prevent add to cart
Fix option Hide Checkout button
2.0.3.1
Fixes
Fix for "Doesn't add products when limit reached" option
Updater fix
2.0.3
Fixes
Some calculations was incorrect
Limits products by attributes
Hide checkout buttons
Enhancement
Single forced product to products
2.0.2
Enhancement
Limits products by categories
Limits products by attributes
2.0.1
Automatically update works only with Account key or Plugin key.
Account key and Plugin key you can find in BeRocket site on My Account page.
Account key you can find on the right side of the page.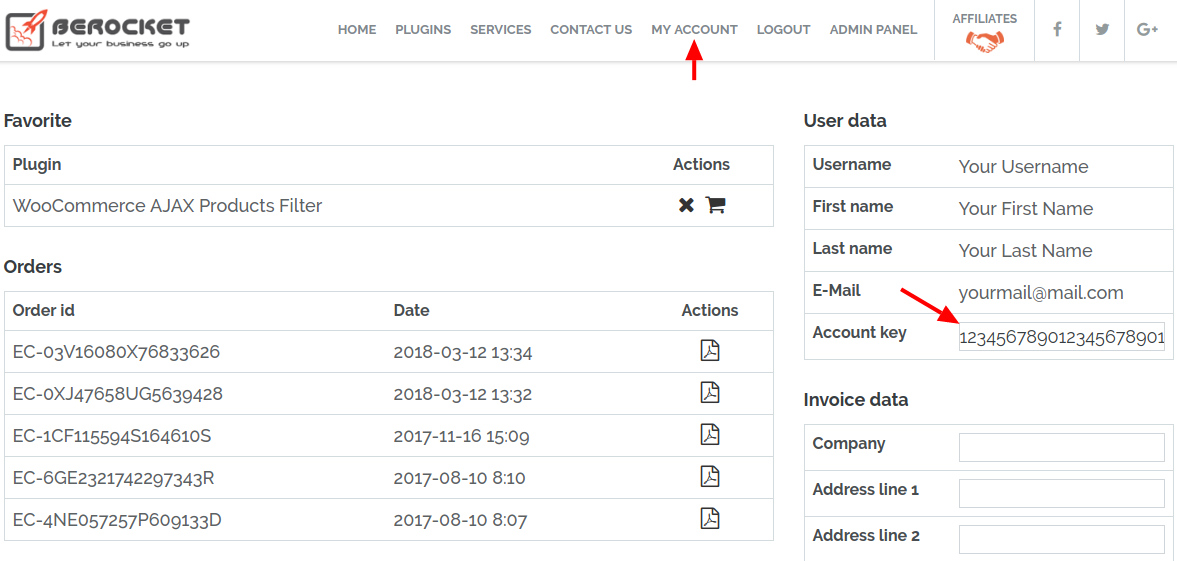 To get Plugin key you need click key symbol on plugin that you need and key will display after plugin list.

Related Plugins: