Plugin to change default product pagination into Infinite Scroll or Ajax pagination with Lazy Load. When a user scrolls down to the bottom of the page, the next page loads automatically.
Choose pagination type among "infinite scrolling", "load more button" and "ajax pagination".
Choose an animation for content loading.
Choose you own selectors in case you have a themed version of woocommerce.
You can upload a loader image of your choice.
Compatibility with other BeRocket plugins.
Tested with themes:
Abacus -

configuration

Avada
Bridge
Clean Commerce
Divi
Louis
NovelLite
Read More
Storefront
Twenty Sixteen
Twenty Seventeen
X -

configuration

... and many other
Wanna try admin side?
Get access to this plugin's admin and try it from inside. Change things and watch how they work.
Free

download

Premium

Infinite Scroll for WooCommerce Products

Font awesome icon instead loading image

AJAX for Default Pagination

JavaScript Before and After AJAX Update

Image Lazy Load

40 Animations for Lazy Load

Customization for Load More Button

Customizable Loading Image

Custom text for Load More Button

WPML support for text

Different Products Load Type for Mobile Devices and Other
General plugin settings.
WooCommerce -> Load More Products -> General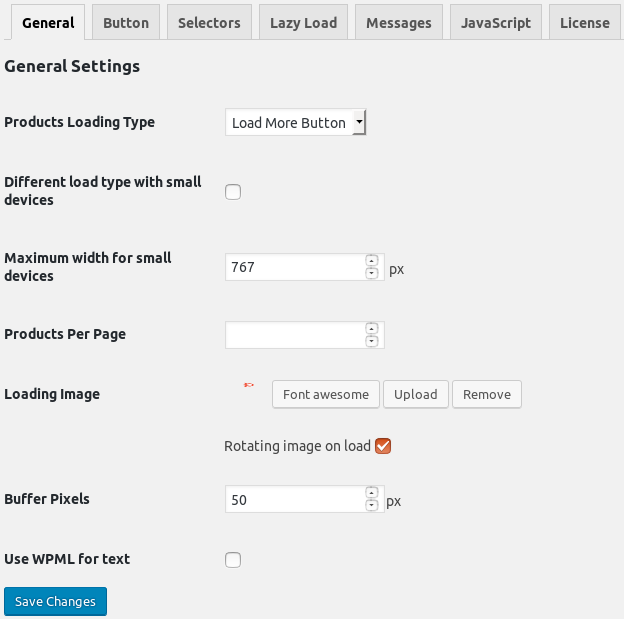 Customization for Load More button.
WooCommerce -> Load More Products -> Button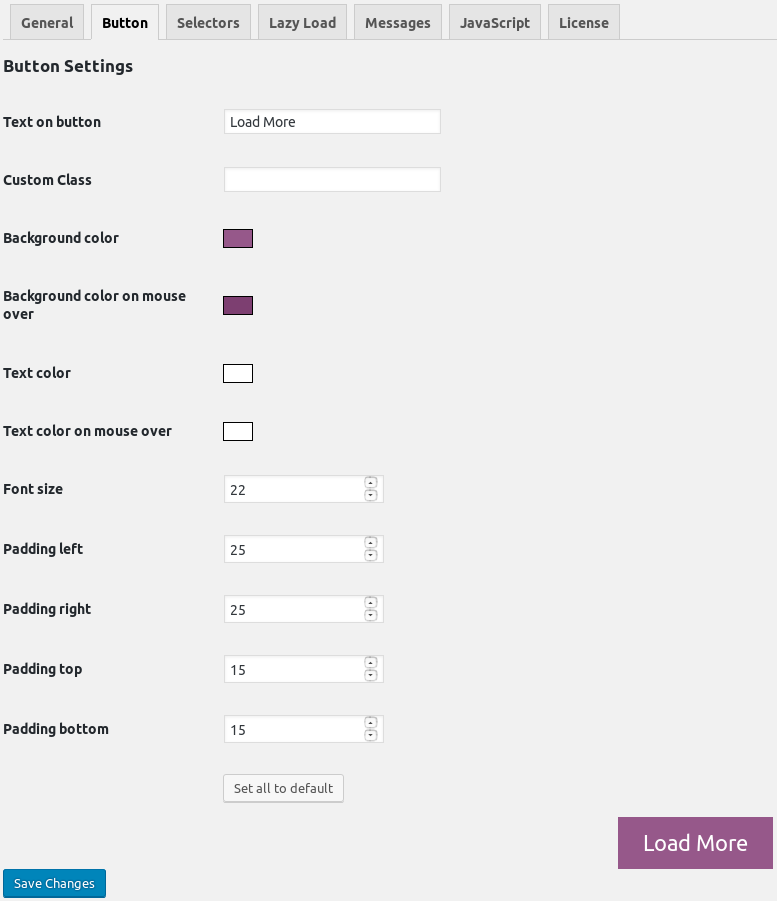 Products container and pagination CSS selectors.
WooCommerce -> Load More Products -> Selectors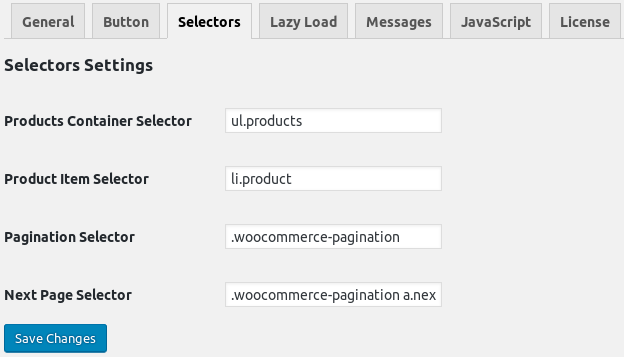 Lazy Load for product images.
WooCommerce -> Load More Products -> Lazy Load
3.1.3.2
Fixes
Change URL on scrolling
Compatibility with AJAX Products Filter
3.1.3.1
Fixes
3.1.3
Enhancement
Get Selectors Automatically for your theme
Fixes
Mobile width doesn't work
Small fixes to improve plugin work
3.1.2
Enhancement
Options to disable JS and CSS files on all pages except WooCommerce
Better URL changes. Backward and forward buttons work correct.
Fixes
URL changes correct
Load more button preview
More JS functions to fix compatibility with other plugins
3.1.1.5
Fixes
Pagination doesn't work correct on some themes
3.1.1.4
Fixes
Load button displayed with infinite scroll
Font Awesome load icon rotate incorrect
3.1.1.3
Enhancement
"None" type of loading doesn't work correct
3.1.1.2
Enhancement
Option to stop url update on scroll
3.1.1.1
Fixes
3.1.1
Fixes
3.1
Enhancement
Recent woocommerce version support
Fixes
2.0.2.2
Fixes
Compatibility with WooCommerce 3.0.0
WPML Compatibility
Compatibility with other plugins
2.0.2.1
Fixes
2.0.2
Enhancement
Added link to the Load More button
Fixes
Translation for plugin
Load more function
Additional informations and buttons in plugin
2.0.1.2
Enhancement
Fixes
BeRocket account settings in WordPress network works correct
2.0.1.1
Fixes
Fix for License tab in settings
Removes inputs in Font Awesome selector
Lazy-Load now disabling all styles and scripts
Fix BeRocket account settings for WordPress Networks
2.0.1
Download plugin from your BeRocket account
Disable FREE version of same plugin if you have it
Open your site admin panel and go to Plugins -> Add New -> Upload Plugin
Click Browse and select downloaded zip file and click Install Now
Click Activate Plugin
Go to Admin area -> WooCommerce -> Load More Products and setup plugin settings
That's it =)
Product and account keys uses for plugin auto updates from BeRocket site.
We adds settings to Settings -> BeRocket Account that contains only one field for Account Key, also Plugin Key fields in plugin settings.
Account Key uses for all BeRocket plugins on your BeRocket account and Account keys uses only for one plugin.
How set Account Key
Login to BeRocket
Go to 'My Account' on BeRocket site
Copy you Account Key from Account key field on right side
Go to website with activated plugin
In admin panel open Settings -> BeRocket Account
Place Key to field Account key
Press Test button if result is Success press Save button