Trusted by 100+ active shop owners 3 years on market
WooCommerce currency exchange for your shop. You can easily setup exchange to any currencies in WooCommerce. Visual only exchange replaces price in shop, product page, but still uses WooCommerce default currency for order page and checkout page. Full currency exchange replaces price at all, also orders will be saved with selected currency. You can setup widget or shortcode with images for each currency. Currency exchange rates can be downloaded from Open Exchange Rates and automatically updated every 24 hours.
Wanna try admin side?
Get access to this plugin's admin and try it from inside. Change things and watch how they work.
Free

download

Premium

Currency exchange for all WooCommerce currencies

Visual exchange for WooCommerce shop and product page only

Full exchange for shop, product page and orders

Widget and shortcode with same settings

Drop down menu and radio buttons in widget

Custom exchange rates for currencies

MasterCard support

Open Exchange Rates support

CurrencyLayer support

Auto update currency every 24 hours

Detect currency via IP address

User can set currency in account settings

Custom element position for currency label in widgets

Country flag for currency label

Custom image for currency label

Multiplier for exchanged currencies
2.0.3.15
Enhancement
Loads currency from FloatRates
Fixes
Notices
Custom text for currency not saving correct
2.0.3.14
Enhancement
New WooCommerce version compatibility
Option to disable Font Awesome
2.0.3.13
Fixes
Multiplier for visual only
Visual only formated currency
2.0.3.12
Fixes
Required APP ID
Updater compatibility
2.0.3.11
Enhancement
Fixer.io site to get currency rate
Fixes
2.0.3.10
Enhancement
Better plugin menu items location
2.0.3.9
Fixes
WC_Geolocation fix for older versions of WooCommerce
2.0.3.9
Fix
GeoLite2 better validation for older WooCommerce
2.0.3.8
Enhancement
GeoLite2 uses to detect currency via IP
Better compatibility with WooCommerce reports
MasterCard was removed
2.0.3.7
Fixes
Shortcode error when "currency_text" parameter not set
Widget save work incorrect on latest WordPress
Updater fix
2.0.3.6
Fixes
2.0.3.5
Enhancement
Recent woocommerce version support
2.0.3.4
Enhancement
Custom text for each currency
Fixes
Remove PHP notices
Updater fix
2.0.3.3
Fixes
Compatibility with WooCommerce 3.0.0
WPML Compatibility
Compatibility with other plugins
2.0.3.2
Fixes
Widget title compatibility with WPML
Updater fix
2.0.3.1
Fixes
WooCommerce orders in admin panel sometimes uses incorrect currency
2.0.3
Fixes
Error with older version of PHP
On some pages plugin doesn't replace prices
Doesn't replace price in WooCommerce AJAX Products Filter plugin
2.0.2
Enhancement
Loads currency from CurrencyLayer and Master Card
Currency by IP address
Custom currency in user account settings
Additional widget types
2.0.1
Automatically update works only with Account key or Plugin key.
Account key and Plugin key you can find in BeRocket site on My Account page.
Account key you can find on the right side of the page.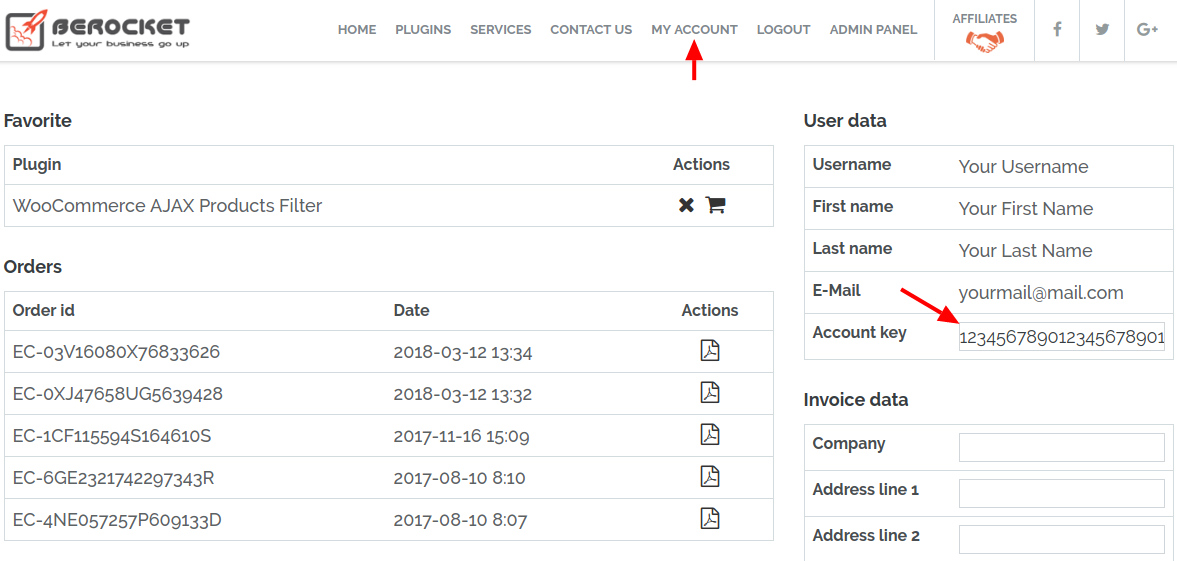 To get Plugin key you need click key symbol on plugin that you need and key will display after plugin list.

Related Plugins: