Trusted by 10,000+ active shop owners 3 years on market
With Advanced Product Labels plugin you can create labels easily and quickly. Promote your free products, show "Free Shipping" or other special attributes of products. By using conditions you can add each labels to specific products in your shop.
Wanna try admin side?
Get access to this plugin's admin and try it from inside. Change things and watch how they work.
Free

download

Premium

Advanced Conditions to select products for labels

Conditions by product, category, sale status, price, stock status, product age

Custom position for each label

Text type of Label

Discount Percentage type of Label

Price type of Label

Stock Status type of Label

Stilization for labels

Tooltips for labels

Conditions by product attribute, sale price, stock quantity, page ID

Discount Amount type of Label

Custom Discount type of Label

Image type of Label

Time left for discount type of Label

Product attribute type of Label

Templates for label

More options for stilization
3.1.7.6
Enhancement
Compatibility WooCommerce 4.0
3.1.7.5
Fixes
Compatibility version: WordPress 5.3 and WooCommerce 3.8
3.1.7.4
Enhancement
Single product labels is now deprecated
Fixes
Save labels on product edit page
3.1.7.3
Enhancement
Optimization to display labels. Remove some blocks if not needed
3.1.7.2
Fixes
New sorting incompatibility with WPML
3.1.7.1
Enhancement
Possibility to enable/disable Lables
Sorting for Labels
Fixes
Save settings on some sites
3.1.7
Enhancement
New Custom Image template
Text before and text after field for all content types
Opacity for label
Fixes
3.1.6.3
Enhancement
Optimization for labels search
Fixes
Links to BeRocket
Compatibility with other BeRocket plugins
3.1.6.2
Enhancement
Compatibility with other BeRocket plugins
Code Security
3.1.6.1
Fixes
3.1.6
Enhancement
Additional hooks for displaing labels (can cause errors, but provide more compatibility with themes)
Update BeRocket plugin framework 2.1
Fixes
Templates for labels
Fatal error with disabled WooCommerce
3.1.5
Fixes
Product Labels duplicate
Some styling do not work for attribute color label
Font awesome better compatibility with themes
Optimization
3.1.4.9
Fixes
On some sites labels creates with specific post status and do not work
3.1.4.8
Fixes
Stock status text
Templates, that was removed in previous version
Font Awesome 5 on some themes
3.1.4.7
Enhancement
Option to select position on product page
Compatibility with latest version of WooCommerce
Fixes
3.1.4.6
Fixes
3.1.4.5
Fixes
3.1.4.4
Fixes
Use all attributes if it is selected
New menu in multisite
3.1.4.3
Fixes
3.1.4.2
Enhancement
Better plugin menu items location
3.1.4.1
Fixes
Displayed labels with text "Label". Now Default Labels not displayed
Improved page load speed with a lot of products
3.1.4
Enhancement
Added Backorder to Condition
Checkboxes to add any labels to product
Tooltip for Label
Custom Discount text
Device to display Label(Mobile, Tablet, Desktop)
Option to copy Label settings from other Label
Price Label
Stock Status Label
Better Compatibility with Product Preview plugin
Fixes
3.1.3.1
Fixes
Center label position not same as left and right
Colors and images changed only after save
Javascript on page load doesn't work
3.1.3
Enhancement
Shipping Class condition
Featured products condition
Fixes
Fix custom post type table
3.1.2
Enhancement
Use text on label with image
Use image for discount label background
Option to remove default Sale label
Fixes
Label rotation with margin
"Time left for discount" label fix
Lines settings fix
3.1.1.1
Fixes
Some elements on products doesn't work
3.1.1
Fixes
Attribute condition doesn't saved
Color for attributes can't be picked after AJAX loading
Background color work incorrect with color attributes
3.1.0
Enhancement
Better position for labels
Paddings and margin for labels
Height and width options for label
Changed description for label settings
Better label preview
3.0.2
Enhancement
Fixes
Product search
Description for label
Position center with custom width
3.0.1
Enhancement
New settings style
Preview for label
Fixes
Style for label on image
Small fixes
2.0.6.5
Fixes
2.0.6.4
Enhancement
Recent woocommerce version support
New Admin notices
2.0.6.3
Fixes
2.0.6.2
Enhancement
Option to set labels position horizontally
Fixes
2.0.6.1
Fixes
fixes labels for product page
2.0.6
Enhancement
Height and width for label on image
Fixes
Better compatibility with WooCommerce 3.0
Remove PHP notices
Label styles fix
Sale price fix
2.0.5.2
Fixes
Compatibility with WooCommerce 3.0.0
WPML Compatibility
Compatibility with other plugins
2.0.5.1
Fixes
Compatibility with other plugins
Updater fix
2.0.5
Fixes
Sometimes lable settings doesn't work correct
Products type of condition doesn't work with new version of WooCommerce
Category type of condition doesn't work with new version of WooCommerce
Multiple conditions in one lable sometimes doesn't work
2.0.4
Enhancement
Labels displayed on single product pages
Labels can be added to products with specific attribute values
Labels can be rotated from -90deg to 90deg
Fixes
WordPress media library doesn't work on some pages
Labels compatible with WPML
2.0.3
Fixes
More compatibility with old version of PHP
Product search for labels doesn't work
Media library doesn't work on some pages
Discount percentage doesn't work correct with variations
2.0.2
Enhancement
Customization for labels
Additional types of labels
2.0.1
Automatically update works only with Account key or Plugin key.
Account key and Plugin key you can find in BeRocket site on My Account page.
Account key you can find on the right side of the page.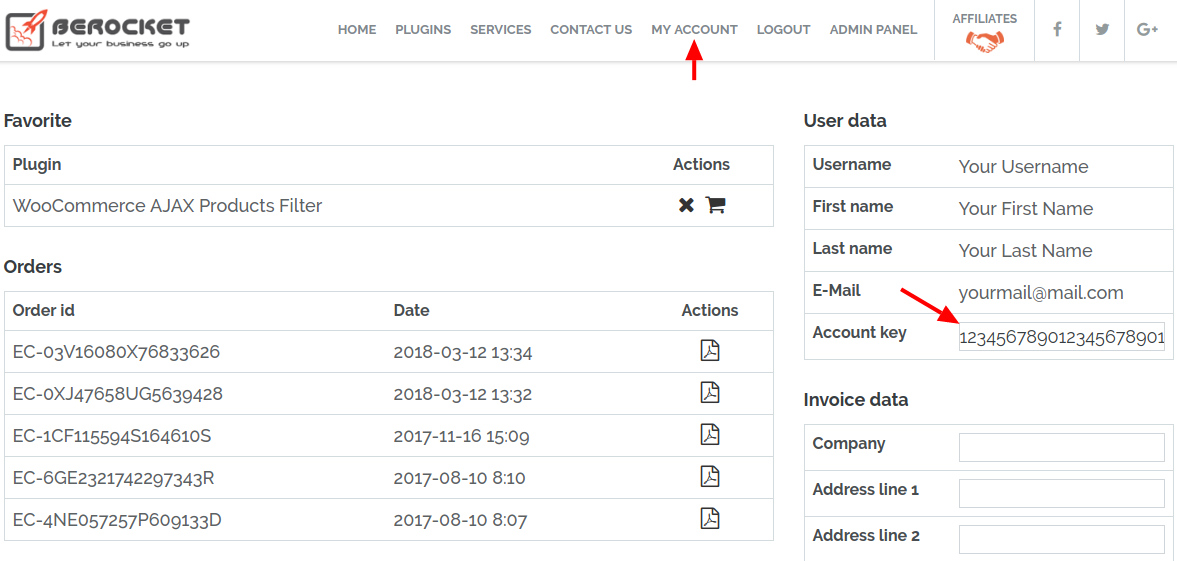 To get Plugin key you need click key symbol on plugin that you need and key will display after plugin list.

Related Plugins: