Show filters above products
Need more space for the products? Say no to sidebars
Show filters collapsed to titles only, in-line above products, or collapsed into a button
"Thanks for an awesome plugin that works so well. I always come back to it after trying a few. well done"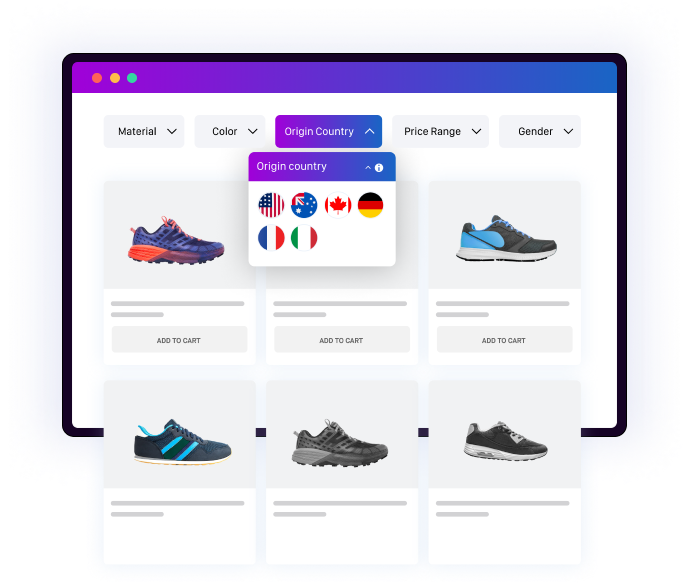 Show only needed values from the attribute or hide few
Together with the Custom Slug add-on you can use the same filter multiple times with different values on the same page
"Very good plugin for customizing Woocommerce product filters. Easy to use interface for customizing the filters"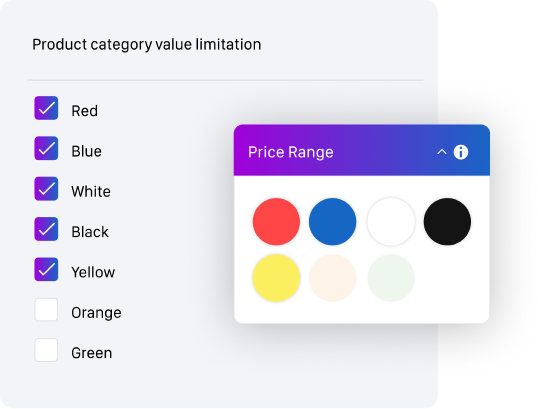 Get access to this plugin's admin and try it from the inside. Change things and watch how they work.
Your email will be used to create a new WordPress user. When the demo site is up, you'll get a notification letter.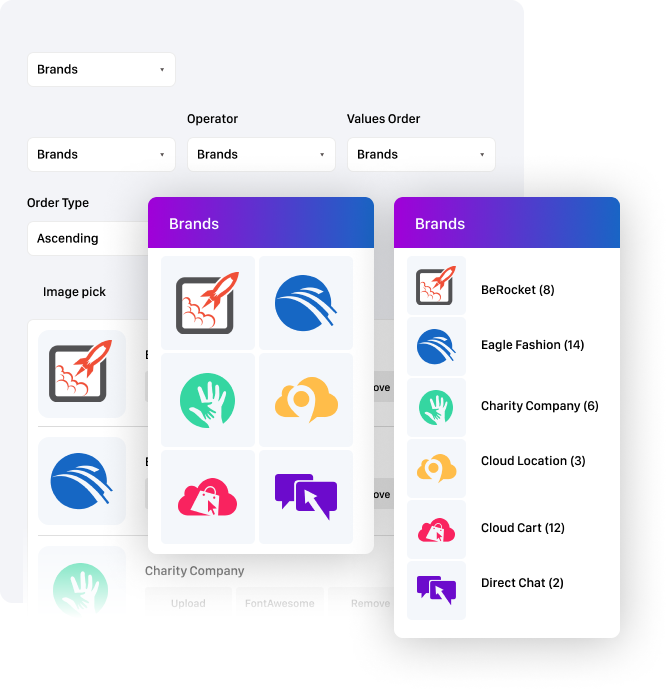 Users love brands. Help them find favorite brands faster
An image filter works great here, but any other filter layouts can be used as well
Hide empty and fitered values
Don't like "No Products!" message? Hide values without products on the go
Show hidden values under the Show Values button, hide empty filters, hide user-selected values, and/or show only the first X values
"It's able to filter out search results from Fibosearch. Can't think of anything more I'd need."
Shows results before filtering
Show users what they will get before filters are applied. Fast and efficient
It takes much less time than normal filtering, and the user will see what he will get as a result of his selection
"I tried many plugins and this one is the only one that worked with minimal effort and does everything I need. Very useful!"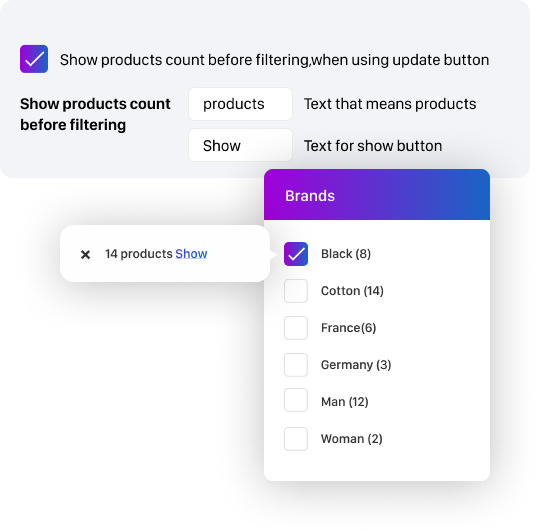 Payment for updates/support
One time / One time (Premium support)
Free / Free (community support)
AJAX Filters, Pagination and Sorting
Drag and Drop Filter Building
Works amazingly with Custom Widget Area
Icons Before and After Title
Icons Before and After Values
Integration - Permalink Manager for WooCommerce
Reset/Clear Filters Button
Filter by WooCommerce Attributes
Filter by WooCommerce Category
Filter by WooCommerce Product Tags
Dropdown Menu/Select for Filters
Checkbox/Values List for Filters
Two styles of Slider Range for Price
Color box Filter Style for Attribute
Image Filter Style for Attribute
Display Values Hierarchically
Hide Child Values for Hierarchical Values
Collapse Filters on Title Click
Collapse Filters on Page Load
Hide some values under a Button
Display Value Name with Color box/Image box
Icon to display Filter Description
Limit Filter Height with a Scroll
Input Fields to set Minimum/Maximum Price
Conditions to Select Pages where filters will be displayed
Shortcodes to display a Filter/Group
Widgets to Display Filter/Group
Compatibility with Divi Builder, Elementor Builder, Beaver Builder
Compatibility with WooCommerce Products Shortcode
Compatibility with WPML, Polylang
Option to translate any text with the help of Language File and Settings
Compatibility with Barn2 Product Table
Compatibility with Relevanssi
Compatibility with Bodycommerce
Compatibility with other BeRocket Plugins
Plenty of ways to add compatibility with Themes and Plugins using Custom Code
Scroll page to the top of products (Scroll Top)
Hide values without products
Remove an out of stock Variations that matches the Selected Filters
Nested Filters (displayed only after selecting other filters)
Display Child Values on a filter for Category/Custom Taxonomies Pages
Up to 4 colors for Attribute values in Type color Widget
Custom Sidebar for filters
Collapsed filters over products
Filters by Custom Taxonomies
Filter by Product On Sale Status
Remove/Leave only some filter values
Checkbox/Values List for Price as Price Ranges
Slider Range for Attributes/Custom Taxonomies
Datepicker Style for Attributes
Datepicker for Product Publication Date
Display Product Count for Attribute Values
Display 1-4 filter(s) per Line/Row
Search Box Block (a group of filters that redirects to other pages on filtering)
Nice URLs for SEO Friendly URLs
Links Setup after filtering
Generate Canonical Links for a page
Add Filters to Page Title/Description/Header
Display Variation Image/Price that matches the selected filters
Open a product with Selected Variation that matches the selected filters
30 days money back guarantee

3.1.4.5

Enhancements

Add-on Filter Additional Settings
Option to replace categories shortcode with products

Fixes

Divi module styles
Pagination with incorrect selectors
MariaDB 10.4 compatibility for database update

3.1.4.4

Fixes

Stock status and Sale filters displayed empty
Link like WooCommerce add-on with sliders

3.1.4.3

Fixes

Compatibility with WooCommerce 7.8
Variation link replace on some custom products loop
Primary key for tables in plugin

3.1.4.2

Enhancements

New Divi module functionality
Options to remove values in sale and stock status filters

Fixes

Pagination replace with translation
Price range on search page and some other pages
Link replace for variable products on some themes
Link like WooCommerce add-on with custom post meta and custom slug

3.1.4.1

Fixes

Divi Module for group do not display filters

3.1.4

Enhancements

Option to close sidebar on filtering
Divi Modules with more options

Fixes

Additional table generation for some database
Custom Post table generation
Price Range filtering
Error filters do not exist
Divi Module preview styles

3.1.3.3

Enhancements

Additional tables generation to not change collation
Additional tables check is tables exist
Additional tables clear tables instead remove

Fixes

Variation functionality with custom slug add-on
Before and after slider values for custom postmeta
Slider with numeric for custom postmeta
Barn2 Product table new check
Variations link changes(some links do not work in WooCommerce)

3.1.3.2

Enhancements

Compatibility version: WooCommerce 7.1

Fixes

Update some links to BeRocket site

3.1.3.1

Enhancements

Compatibility version: WooCommerce 7.0

Fixes

Remove some PHP 8.1 notices

3.1.3

Enhancements

POST META FILTRATION ADD-ON
Hierarchical view for taxonomies list

Fixes

Color/Image select with polylang
Additional tables generation for some site
Inline buttons view
Currency exchange compatibility
Module for Divi theme
Style of admin elements