Allows customers to add products to Wishlist and Waitlist. From birthdays to weddings and everything in between. Using a simple plugin, you can build up a waiting list of people wanting the unavailable item, then notify these customers automatically when products come back in.
Wishlist and Waitlist page for customers in one plugin.
You can disable Wishlist and Waitlist separately.
Statistic for each product on products page.
Different position for wish and wait buttons.
Stylization for wish and wait buttons.
Stylization for wishlist and waitlist.
To see wish and wait buttons on Demo site login first on Demo Description page (click "Login to test account")
Wanna try admin side?
Get access to this plugin's admin and try it from inside. Change things and watch how they work.
Free

download

Premium

Wishlist and Waitlist for Customers

Wish and Wait Buttons Under Products

Customization for Buttons

Custom Text On Wish/Wait Page

Only One List or Both Lists

Different positions for buttons

Wishlist and Waitlist on different pages

Widget with products from waitlist, that in stock

Widget with products from wishlist, that on sale

Widget with related products to products from wishlist

Widget with most popular products

Customization for wish/wait list

Customization for buttons

Customer can remove products in order from wishlist or waitlist
General plugin settings.
WooCommerce -> Wish/Wait List -> General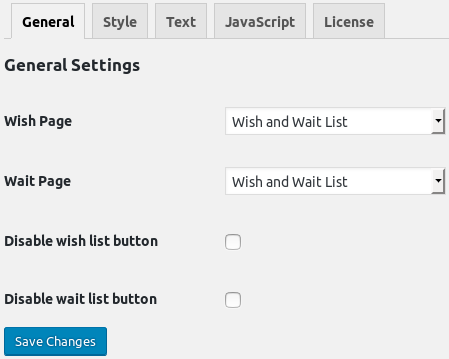 Design settings for the plugin.
WooCommerce -> Wish/Wait List -> Style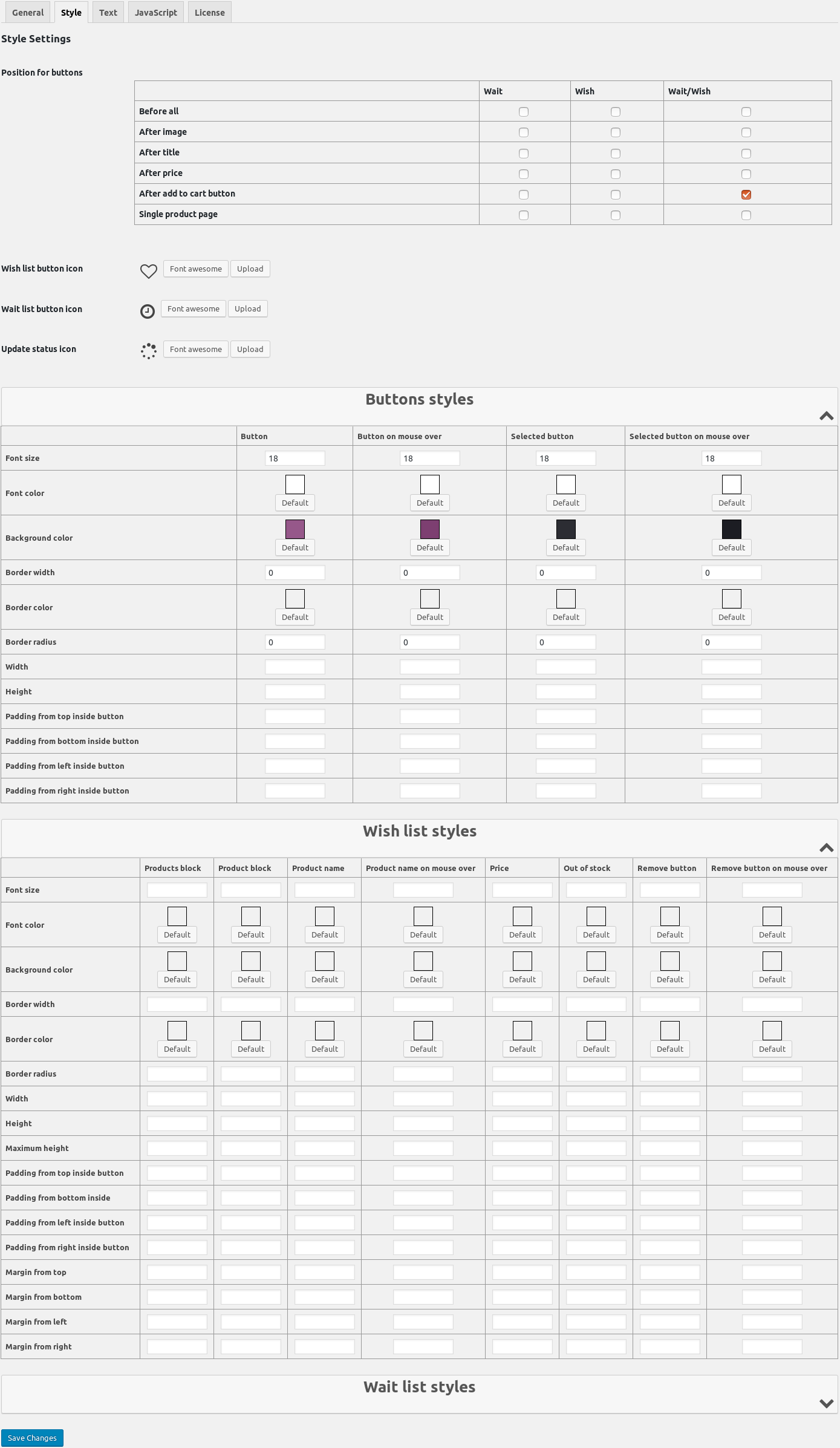 Text settings for the plugin.
WooCommerce -> Wish/Wait List -> Text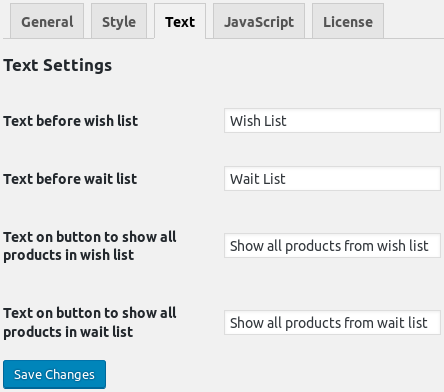 2.0.2.4
Fixes
2.0.2.3
Enhancement
Recent woocommerce version support
2.0.2.2
Fixes
Compatibility with WooCommerce 3.0.0
WPML Compatibility
Compatibility with other plugins
2.0.2.1
Fixes
Widget fix for older PHP version
Compatibility with other plugins
Widget title compatibility with WPML
Updater fix
2.0.2
Enhancement
Customization for tables
Widget for products from wish and wait list and related to lists
Different pages for wishlist and waitlist
Remove products from waitlist on checkout
2.0.1
Download plugin from your BeRocket account
Disable FREE version of same plugin if you have it
Open your site admin panel and go to Plugins -> Add New -> Upload Plugin
Click Browse and select downloaded zip file and click Install Now
Click Activate Plugin
Open shop page and check how it works.
That's it =)
Product and account keys uses for plugin auto updates from BeRocket site.
Account settings is in Settings -> BeRocket Account that contains only one field for Account Key, also we adds Plugin Key fields to plugin settings.
Account Key uses for all BeRocket plugins on your BeRocket account and Account keys uses only for one plugin.
How set Account Key
Login to BeRocket
Go to 'My Account' on BeRocket site
Copy you Account Key from Account key field on right side
Go to website with activated plugin
In admin panel open Settings -> BeRocket Account
Place Key to field Account key
Press Test button if result is Success press Save button