Trusted by 10+ active shop owners 3 years on market
Allows customers to add products to Wishlist and Waitlist. From birthdays to weddings and everything in between. Using a simple plugin, you can build up a waiting list of people wanting the unavailable item, then notify these customers automatically when products come back in.
Tested with themes:
Abacus
Avada
Bridge
Clean Commerce
Louis
Storefront
Twenty Sixteen
Twenty Seventeen
X
Divi ... and many other
Wanna try admin side?
Get access to this plugin's admin and try it from inside. Change things and watch how they work.
Free

download

Premium

Wish List for Users

Wait List for Users

Wish and Wait Buttons Under Products

Customization for Buttons

Custom Text On Wish/Wait Page

Only One List or Both Lists

Different positions for buttons

Wait and Wish lists on different pages

Widget with products from wait list, that in stock

Widget with products from wish list, that on sale

Widget with related products to products from wish list

Widget with most popular products

Customization for wish/wait list

Customization for buttons

Is customers want to remove products in order from list
2.0.2.9
Enhancement
New WooCommerce version compatibility
Variable explanation for email
2.0.2.8
Enhancement
New options for sending email for in stock products
Fixes
2.0.2.7
Fixes
2.0.2.6
Enhancement
Better plugin menu items location
2.0.2.5
Enhancement
Better Compatibility with Product Preview plugin
2.0.2.4
Fixes
2.0.2.3
Enhancement
Recent woocommerce version support
2.0.2.2
Fixes
Compatibility with WooCommerce 3.0.0
WPML Compatibility
Compatibility with other plugins
2.0.2.1
Fixes
Widget fix for older PHP version
Compatibility with other plugins
Widget title compatibility with WPML
Updater fix
2.0.2
Enhancement
Customization for tables
Widget for products from wish and wait list and related to lists
Different pages for wishlist and waitlist
Remove products from waitlist on checkout
2.0.1
Automatically update works only with Account key or Plugin key.
Account key and Plugin key you can find in BeRocket site on My Account page.
Account key you can find on the right side of the page.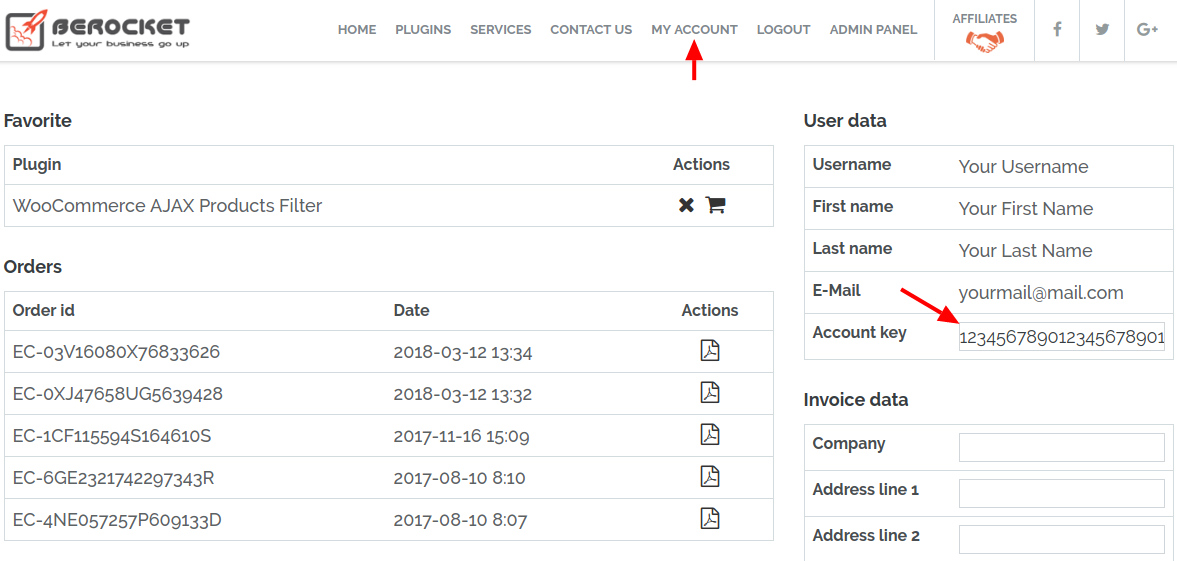 To get Plugin key you need click key symbol on plugin that you need and key will display after plugin list.

Related Plugins: