WooCommerce Terms and Conditions Popup plugin allows your customers to see the terms and conditions without leaving the checkout page. Terms and conditions have great advantages for users and administrators in terms of liability and security. WooCommerce Terms and Conditions Popup gives the possibility to display this type of information in a popup window and so make its consultation quick and simple.
What you can do with Cart Notices
Display Terms and Conditions in the popup window
Custom width and height of the popup window
You can add agree and decline button to the popup window
Tested with themes:
Abacus
Avada
Bridge
Clean Commerce
Divi
Louis
NovelLite
Read More
Storefront
Twenty Sixteen
Twenty Seventeen
X
... and many other
Wanna try admin side?
Get access to this plugin's admin and try it from inside. Change things and watch how they work.
Free

download

Premium

Popup for WooCommerce terms and conditions

Custom height and width for popup

Custom CSS for front end pages

Agree and decline buttons on popup instead checkbox on page

Timer before popup can be closed

Customization for Terms and Conditions Popup

Shortcode to add Terms and Conditions to any form
General plugin settings.
WooCommerce -> Terms and Conditions Popup -> General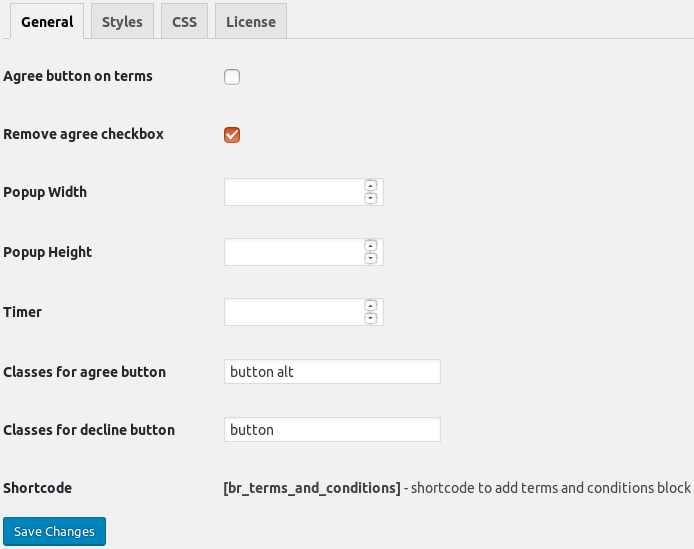 Design settings for the plugin.
WooCommerce -> Terms and Conditions Popup -> Style

2.0.3.4
Fixes
2.0.3.3
Enhancement
Recent woocommerce version support
2.0.3.2
Fixes
Compatibility with WooCommerce 3.0.0
2.0.3.1
Fixes
2.0.3
Fixes
Functions for popup doesn't work correct on some WordPress
Error when page is incorrect
2.0.2
Enhancement
Customization for popup
Timer before popup can be closed
Shortcode for terms and conditions
2.0.1
Download plugin from your BeRocket account
Disable FREE version of same plugin if you have it
Open your site admin panel and go to Plugins -> Add New -> Upload Plugin
Click Browse and select downloaded zip file and click Install Now
Click Activate Plugin
Check how it works.
That's it =)
Product and account keys uses for plugin auto updates from BeRocket site.
Account settings is in Settings -> BeRocket Account that contains only one field for Account Key, also we adds Plugin Key fields to plugin settings.
Account Key uses for all BeRocket plugins on your BeRocket account and Plugin keys uses only for one plugin.
How set Account Key
Login to BeRocket
Go to 'My Account' on BeRocket site
Copy you Account Key from Account key field on right side
Go to website with activated plugin
In admin panel open Settings -> BeRocket Account
Place Key to field Account key
Press Test button if result is Success press Save button