Trusted by 20+ active shop owners 3 years on market
WooCommerce Splash Popup plugin allows you to display your customers the information that you want to promote. The popup messages are displayed as soon as the visitors opens the page. You are free to add any custom forms or other types of content to the windows. If you has some important content you'd like to share with your visitors, whether that's a welcome message, links to your best posts or your most popular products, then WooCommerce Splash Popup is a great plugin for you.
Tested with themes:
Abacus
Avada
Bridge -

configuration

Clean Commerce
Divi -

configuration

Storefront
Twenty Sixteen
Twenty Seventeen
X
Louis ... and many other
Wanna try admin side?
Get access to this plugin's admin and try it from inside. Change things and watch how they work.
Free

download

Premium

Show any WordPress page as popup window on site load

Uses cookies for save data

Custom expiry period for the cookie

Reset Cookie on Login / Logout

Different pages for logged in/not logged in users and logged in customers

Different pages for different days of the week

Specific popup for each pages

Display popup once, on each page or once for each content

Customization for popup

Timer before popup can be closed
2.0.3.9
Enhancement
New WooCommerce version compatibility
2.0.3.8
Fixes
2.0.3.7
Fixes
2.0.3.6
Enhancement
Better plugin menu items location
2.0.3.5
Enhancement
Fixes
2.0.3.4
Fixes
2.0.3.3
Enhancement
Recent woocommerce version support
2.0.3.2
Fixes
Compatibility with WooCommerce 3.0.0
WPML Compatibility
2.0.3.1
Fixes
2.0.3
Fixes
Line breaks doesn't work on splash popup
Styles for color picker
Styles for close button doesn't work on some theme
2.0.2
Enhancement
Customization for popup window
Specific popups for pages
Different popups for different days of the week
Timer before popup can be closed
2.0.1
Automatically update works only with Account key or Plugin key.
Account key and Plugin key you can find in BeRocket site on My Account page.
Account key you can find on the right side of the page.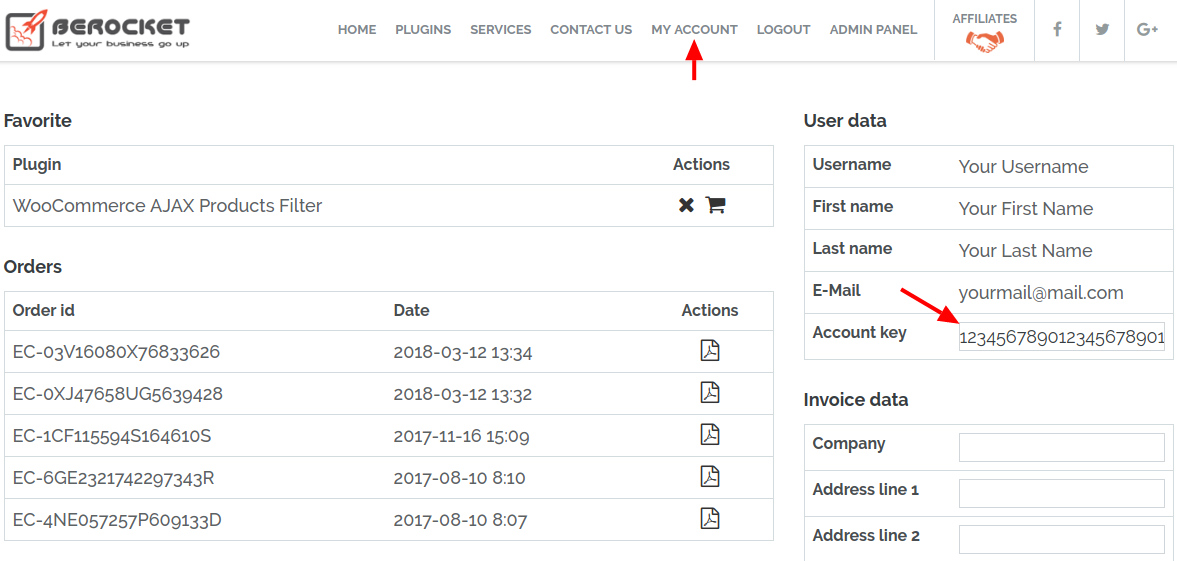 To get Plugin key you need click key symbol on plugin that you need and key will display after plugin list.

Related Plugins: