Trusted by 300+ active shop owners 3 years on market
Woocommerce Sales Report generates daily, weekly and monthly sales report. Plugin will generates E-Mail message with total sales, amout of orders and sold products and sends to selected E-Mail.
Tested with themes:
Abacus
Avada
Bridge
Clean Commerce
Louis
Storefront
Twenty Sixteen
Twenty Seventeen
X
Divi ... and many other
Wanna check report messages?
Recive messages that Sales Report plugin generates. Will be sended daily, weekly and monthly messages.
3.0.4.1
Enhancement
Compatibility with other BeRocket plugins
Code Security
3.0.4
Enhancement
Update BeRocket plugin framework 2.1
Fixes
Fatal error without WooCommerce
Send time
3.0.3.1
Enhancement
New WooCommerce version compatibility
3.0.3
Enhancement
Reports for multiple period in one email
Better work with changed timezone
Fixes
Remove cron duplicates
Sometimes shortcode generator do not work after closing
3.0.2.4
Fixes
3.0.2.3
Fixes
3.0.2.2
Fixes
Previous send day was incorrect
3.0.2.1
Enhancement
Columns with informations for custom post type
Metabox with informations for custom post type
3.0.2
Enhancement
Better plugin menu items location
Options to set order for products in each report
Global settings was removed (Same thing you can setup via custom post type)
Fixes
Start and end date work incorrect in some case
3.0.1
Fixes
2.0.4.4
Enhancement
Option to set products order
Fixes
Updater fix
Empty email text fix
2.0.4.3
Enhancement
Date displayed in daily report message
Send empty report on days without orders
2.0.4.2
Fixes
Status option doesn't work
2.0.4.1
Enhancement
Set last sended time as current time on settings save
Fixes
Last sended time was incorrect
2.0.4
Enhancement
Order status for sending
Use selected time as start and end of day for dayli reports
Fixes
Multiple sendings of messages
2.0.3.6
Fixes
2.0.3.5
Enhancement
Recent woocommerce version support
New Admin notices
2.0.3.4
Fixes
Compatibility with WooCommerce 3.0.0
2.0.3.3
Fixes
2.0.3.2
Fixes
Fixes for some styles in admin panel
2.0.3.1
Fixes
Added send report button
Plugin work only with time 00:00
2.0.3
Fixes
Media Library sometimes work incorrect
Plugin uses incorrect time to send reports
Incorrect HTML headers and message code for some Email clients
2.0.2
Enhancement
Multiple E-Mails
Custom data for report
Sales by days
2.0.1
Automatically update works only with Account key or Plugin key.
Account key and Plugin key you can find in BeRocket site on My Account page.
Account key you can find on the right side of the page.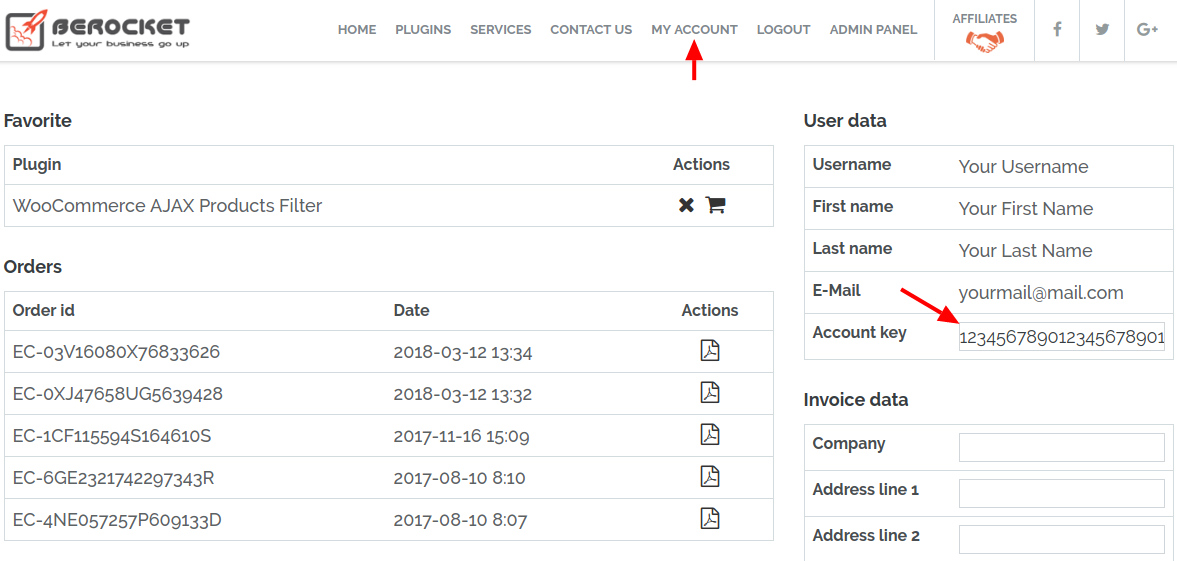 To get Plugin key you need click key symbol on plugin that you need and key will display after plugin list.

Related Plugins: