Woocommerce Sales Report generates daily, weekly and monthly sales report. Plugin will generates E-Mail message with total sales, amout of orders and sold products and sends to selected E-Mail.
Sends daily, weekly and monthly report to selected E-Mail
Option to select time to send E-Mail
You can select one or more interval to send reports
Multiple E-Mails with different settings to send reports
Please check more information in Screenshots tab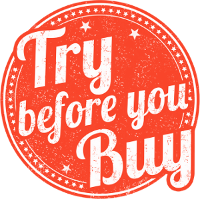 Free

download

Premium

Sends report to selected E-Mail

Can select time to send report

Sends weekly report

Sends daily and monthly report

Multiple interval to send reports

Up to 10 E-Mails with personal settings

Can select data to send

Sales by days for weekly and monthly period
General plugin settings.
WooCommerce -> Sales Report -> General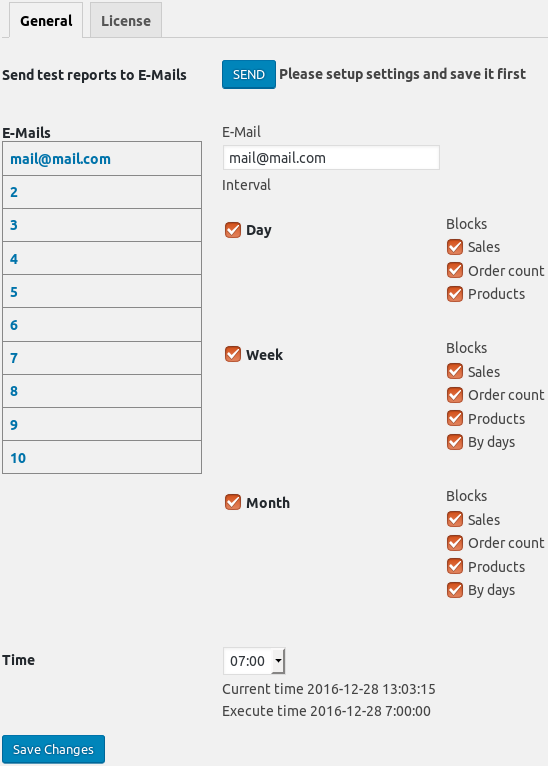 Report preview
Daily report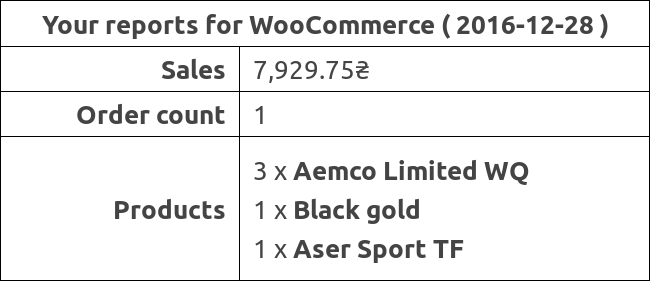 Weekly report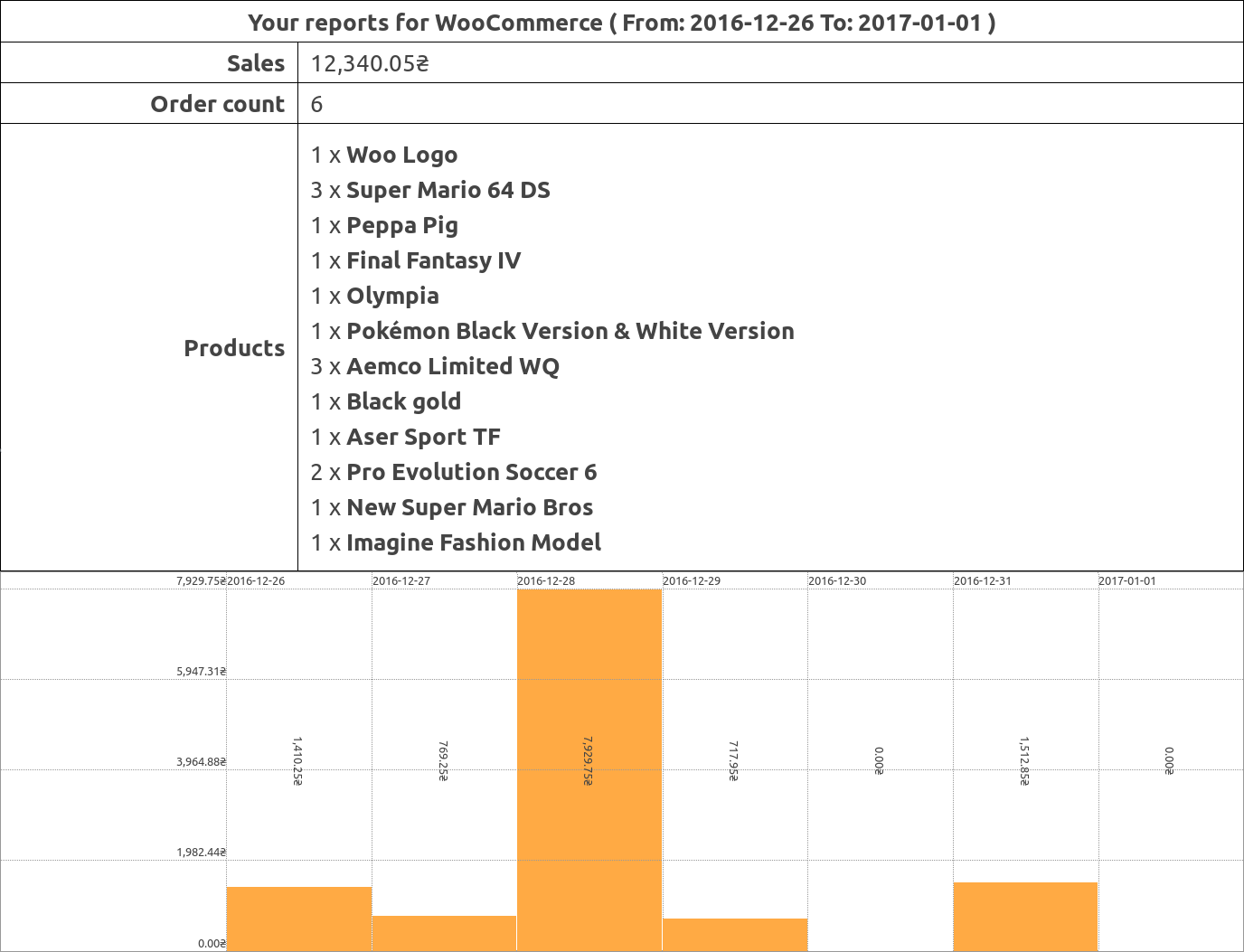 Monthly report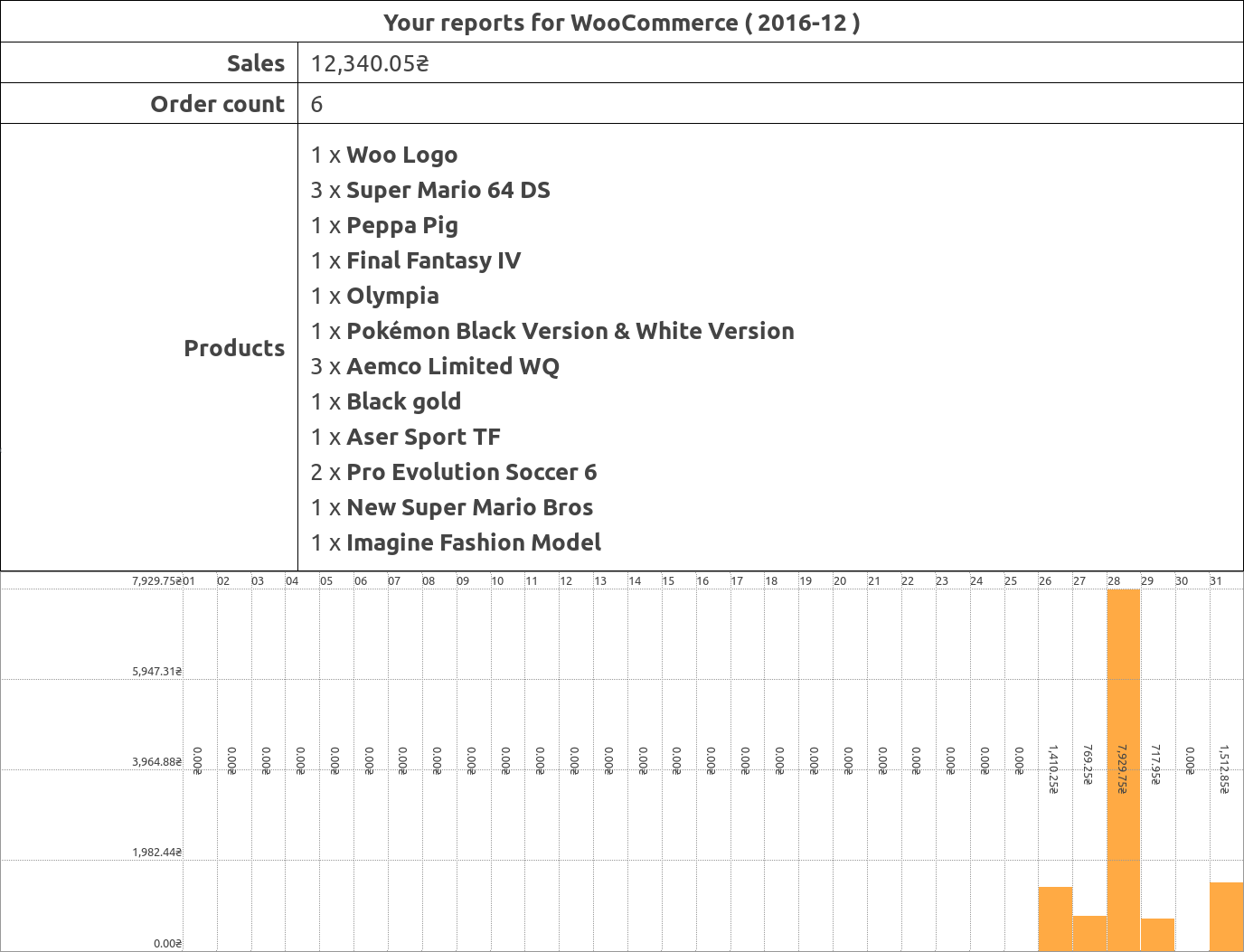 2.0.4.4
Enhancement
Option to set products order
Fixes
Updater fix
Empty email text fix
2.0.4.3
Enhancement
Date displayed in daily report message
Send empty report on days without orders
2.0.4.2
Fixes
Status option doesn't work
2.0.4.1
Enhancement
Set last sended time as current time on settings save
Fixes
Last sended time was incorrect
2.0.4
Enhancement
Order status for sending
Use selected time as start and end of day for dayli reports
Fixes
Multiple sendings of messages
2.0.3.6
Fixes
2.0.3.5
Enhancement
Recent woocommerce version support
New Admin notices
2.0.3.4
Fixes
Compatibility with WooCommerce 3.0.0
2.0.3.3
Fixes
2.0.3.2
Fixes
Fixes for some styles in admin panel
2.0.3.1
Fixes
Added send report button
Plugin work only with time 00:00
2.0.3
Fixes
Media Library sometimes work incorrect
Plugin uses incorrect time to send reports
Incorrect HTML headers and message code for some Email clients
2.0.2
Enhancement
Multiple E-Mails
Custom data for report
Sales by days
2.0.1
Download plugin from your BeRocket account
Disable FREE version of same plugin if you have it
Open your site admin panel and go to Plugins -> Add New -> Upload Plugin
Click Browse and select downloaded zip file and click Install Now
Click Activate Plugin
Open plugin settings Admin Panel -> WooCommerce -> Sales Report
Setup E-Mail, interval and time when message will be sent
Open shop page and check how it works.
That's it =)
Product and account keys uses for plugin auto updates from BeRocket site.
Account settings is in Settings -> BeRocket Account that contains only one field for Account Key, also we adds Plugin Key fields to plugin settings.
Account Key uses for all BeRocket plugins on your BeRocket account and Plugin keys uses only for one plugin.
How set Account Key
Login to BeRocket
Go to 'My Account' on BeRocket site
Copy you Account Key from Account key field on right side
Go to website with activated plugin
In admin panel open Settings -> BeRocket Account
Place Key to field Account key
Press Test button if result is Success press Save button