Trusted by 2,000+ active shop owners 3 years on market
WooCommerce Products Image Watermark plugin allows you to add watermark to images that applied to products. These watermarks can be an image copyright symbol, company logo or text. You will need few clicks to apply a logo or a watermark on all your product images.
Tested with themes:
Abacus
Avada
Bridge
Clean Commerce
Louis
Storefront
Twenty Sixteen
Twenty Seventeen
X
Divi ... and many other
Wanna try admin side?
Get access to this plugin's admin and try it from the inside. Change things and watch how they work.
Compare the benefits

Free

download

Premium

Watermark for product images
Custom watermark position
Watermarks with transparency is supported
Custom CSS for front end pages
Custom watermark size
Different watermarks for different image type
Save aspect ratio for watermarks
Up to 5 watermarks
Place text to images
Options to set text color, size and transparency
3.0.3.8
Fixes
Scaled images not watermarked
3.0.3.7
Enhancement
Compatibility version: WooCommerce 5.0
Check PHP module GD
3.0.3.6
Enhancement
Compatibility version: PHP 8 and WooCommerce 4.9
3.0.3.5
Fixes
Attachment metadata option restore after image regenerate
Compatibility version: WooCommerce 4.7
3.0.3.4
Fixes
Different sizes compatibility for latest version of WooCommerce
Restore script, get all images instead only registered sizes
Restore all images on Create and Regenerate, to prevent some issues
3.0.3.3
Enhancement
Compatibility version: WooCommerce 4.5
3.0.3.2
Enhancement
Compatibility version: Wordpress 5.5 and WooCommerce 4.4
3.0.3.1
Enhancement
Compatibility WooCommerce 4.1
3.0.3
Enhancement
Compatibility WooCommerce 4.0
3.0.1.1
Enhancement
Compatibility version: WordPress 5.3 and WooCommerce 3.8
Prevent errors when image was removed
Prevent errors when image type not supported
3.0.1
Enhancement
Bulk options in media library list view
Fixes
Default settings value instead empty
Static functions error
3.0.0.1
Fixes
Links to BeRocket
Compatibility with other BeRocket plugins
3.0
Enhancement
New admin settings design
Better generate/restore image script
Moved media library buttons to addon
Fixes
Some file extensions do not work correct
Replace images live with WooCommerce 3.6
Image create and restore sometimes do not work
2.0.3.14
Fixes
Replace file URL with file path
Fix PHP notices
2.0.3.13
Enhancement
New WooCommerce version compatibility
Fixes
Old WordPress media library
2.0.3.12
Enhancement
Bulk watermark generation for media library
2.0.3.11
Fixes
Updater compatibility
Create and restore watermarks
2.0.3.10
Fixes
2.0.3.9
Enhancement
Create watermark button in media library
Option to create watermarked images one by one from admin panel
Option to regenerate watermarked images
Option to restore images one by one from admin panel
2.0.3.8
Enhancement
Better plugin menu items location
2.0.3.7
Enhancement
Limitation image by memory used
Error log
Fixes
2.0.3.6
Fixes
New check for image that will be watermarked
Watermark for sizes that is not WooCommerce
Plugin updater fix
2.0.3.5
Fixes
2.0.3.4
Enhancement
Recent woocommerce version support
2.0.3.3
Enhancement
JPEG Quality option
Maximum height and maximum width limitation for images
Fixes
Error for products where image was removed incorrect
PHP notices was removed
2.0.3.2
Fixes
Compatibility with WooCommerce 3.0.0
WPML Compatibility
2.0.3.1
Fixes
2.0.3
Fixes
Some images replaces doesn't correct
Additionals information text
2.0.2
Enhancement
Multiple watermarks
Text watermarks
2.0.1
Automatically update works only with Account key or Plugin key.
Account key and Plugin key you can find in BeRocket site on My Account page.
Account key you can find on the right side of the page.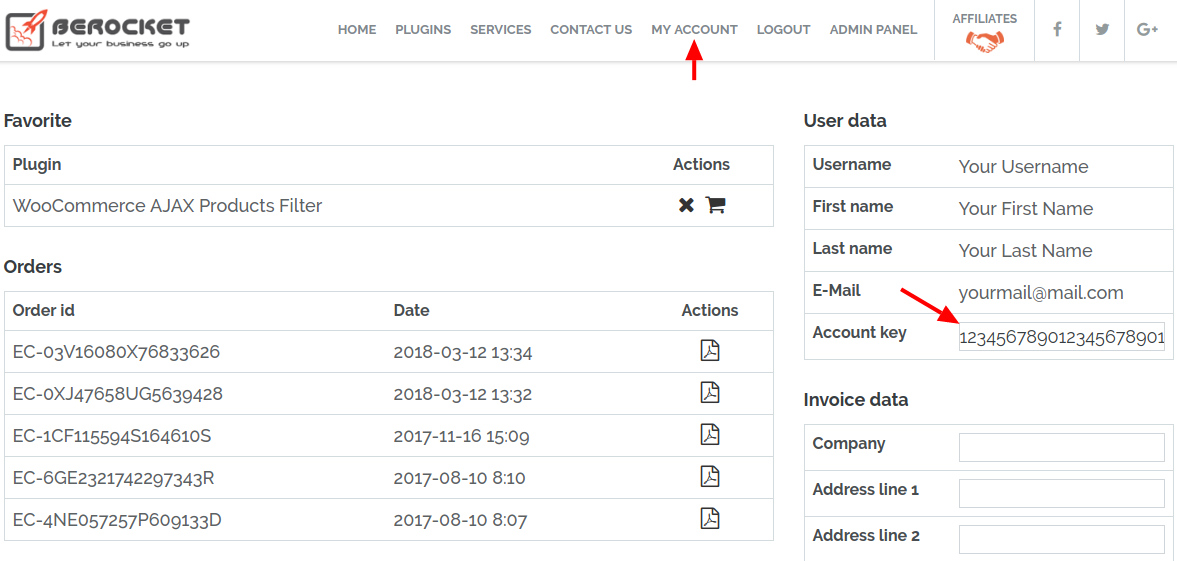 To get Plugin key you need click key symbol on plugin that you need and key will display after plugin list.

Related Plugins: