Trusted by 4,000+ active shop owners 4 years on market
WooCommerce Grid/List View plugin adds buttons to shops page which toggles grid and list products view. This is simple plugin with advanced customization of list / grid view toggle buttons and list style.
Tested with themes:
Abacus
Avada -

configuration

Bridge
Clean Commerce
Louis
Storefront
Twenty Sixteen
Twenty Seventeen
X -

configuration

Divi ... and many other
Wanna try admin side?
Get access to this plugin's admin and try it from the inside. Change things and watch how they work.
Free

download

Premium

List style for products

Customization for grid / list style switch buttons

Custom JavaScript on some actions

Customization for Product count switch links

Advanced list style for products

Customization for simple products list style

Customization for advanced products list style

Additional settings for grid / list widget

Custom CSS styles
3.0.1.6
Enhancement
Compatibility version: PHP 8 and WooCommerce 4.9
3.0.1.5
Fixes
3.0.1.4
Fixes
Compatibility version: WooCommerce 4.7
Disable cookie set for REST API request
3.0.1.3
Enhancement
Compatibility version: WooCommerce 4.5
3.0.1.2
Fixes
Compatibility version: Wordpress 5.5 and WooCommerce 4.4
3.0.1.1
Enhancement
Compatibility WooCommerce 4.1
3.0.1
Enhancement
Compatibility WooCommerce 4.0
3.0.0.6
Enhancement
Better compatibility with Load more and AJAX Filters plugins
WooCommerce compatibility version 3.9.1
Fixes
Error header already sent
Error when page was removed
3.0.0.5
Fixes
Color selectors do not work
3.0.0.4
Enhancement
Compatibility version: WordPress 5.3 and WooCommerce 3.8
3.0.0.3
Fixes
Error with static function
3.0.0.2
Enhancement
Specific style for Home page
Fixes
3.0.0.1
Fixes
Links to BeRocket
Compatibility with other BeRocket plugins
Button styles
File for Loco Translate
3.0
Enhancement
New admin settings design
Fixes
Product count styles do not save
Out of stock button style do not work
Some styles was incorrect
2.0.2.11
Enhancement
Add device selection for fixed page styles
New WooCommerce version compatibility
Fixes
Fixed styles for category, product page do not work
2.0.2.10
Enhancement
Fixed products style on selected pages
2.0.2.9
Fixes
2.0.2.8
Fixes
2.0.2.7
Enhancement
Better plugin menu items location
2.0.2.6
Enhancement
Option to disable Font Awesome
Different default style for desktop and mobile
Fixes
List view with categories
"All" was limited as 400 products to prevent fatal error and slow loading
2.0.2.5
Fixes
Products per page doesn't work on some theme
incorrect field name in settings
Updater fix
2.0.2.4
Fixes
2.0.2.3
Enhancement
Recent woocommerce version support
2.0.2.2
Fixes
Compatibility with WooCommerce 3.0.0
WPML Compatibility
Compatibility with other plugins
2.0.2.1
Fixes
Widget title compatibility with WPML
Updater fix
2.0.2
Fixes
Buttons and information about plugin
Shortcode displayed incorrect with other shortcodes
Correct plugin name in settings
Doesn't work with loading via AJAX
Add to cart button displayed incorrect
2.0.1.8
Fixes
Back end products page displayed incorrect with list view
Preview for settings doesn't work with some plugins
2.0.1.7
Fixes
Product page displayed incorrect
Advanced list style Add to cart button fix
Compatibility with product preview plugin
2.0.1.6
Fixes
Setting save fix
Updater fix
2.0.1.5
Enhancement
Additional settings in widget
Fixes
Shortcode fixes
Displays products with grid and list style on any pages
2.0.1.4
Enhancement
Fixes
Translation fix
Plugin key fix
2.0.1.3
Enhancement
Product per page field added
Added settings to setup default view
Fixes
Fixes for multisite network
Removed errors on activation
Removed warnings
2.0.1.2
Enhancement
Better compatibility with WooCommerce Load More Products plugin
Better compatibility with WooCommerce AJAX Products Filter plugin
Fixes
2.0.1.1
Enhancement
Added shortcode br_grid_list
Fixes
Updater now update plugin from BeRocket site correct
Changed plugin name and description for correct
Other fixes
Automatically update works only with Account key or Plugin key.
Account key and Plugin key you can find in BeRocket site on My Account page.
Account key you can find on the right side of the page.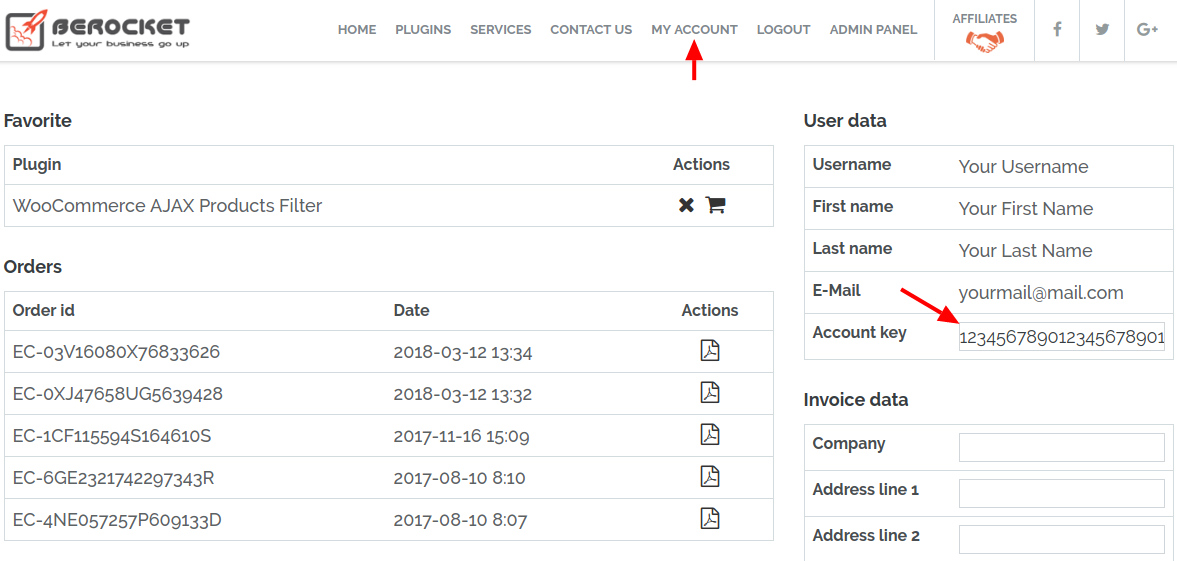 To get Plugin key you need click key symbol on plugin that you need and key will display after plugin list.

Related Plugins: