Overall Rated
3 years on market
Creating labels has come really easy and fast with the Advanced Product Labels plugin. Promote your free products, show "Free Shipping" or other special attributes of products. By using conditions you can add each labels to specific products in your shop.
Wanna try admin side?
Get access to this plugin's admin and try it from the inside. Change things and watch how they work.
50+ ready to use templates
Our WooCommerce Advanced Product Labels offers 3 types of templates: CSS, Image and Advanced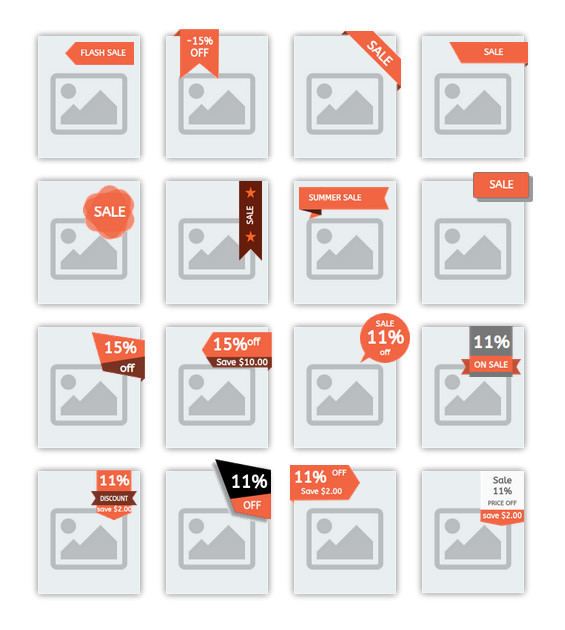 Opacity & Gradient
Gradient will add some spice to your labels, while a semi-transparent background shows a content under it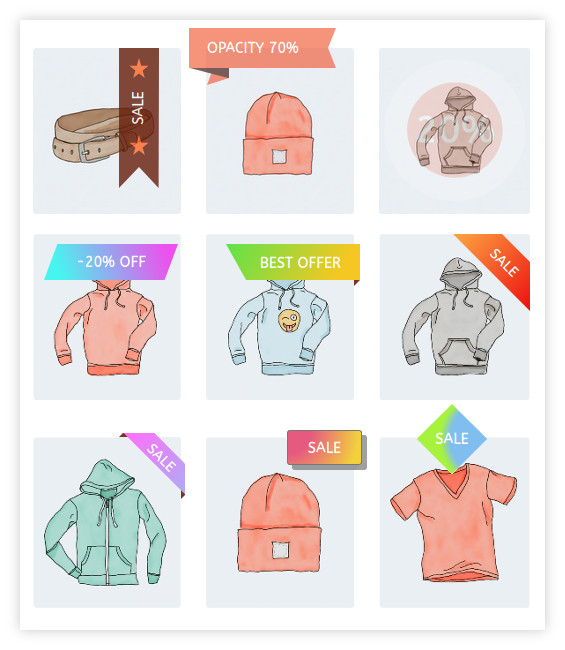 Label style options
Font size, color, border, Google Fonts, rotation and other style options to make the label you want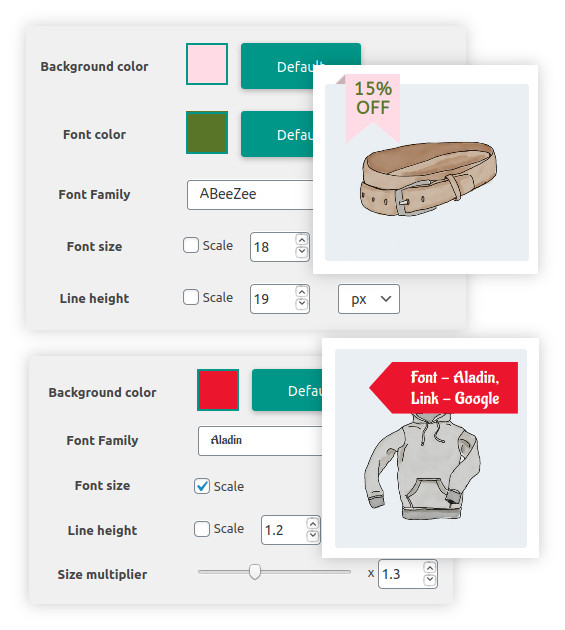 Theme compliance with hooks
We've added a special option that will cover 99% of other themes.
Your theme will work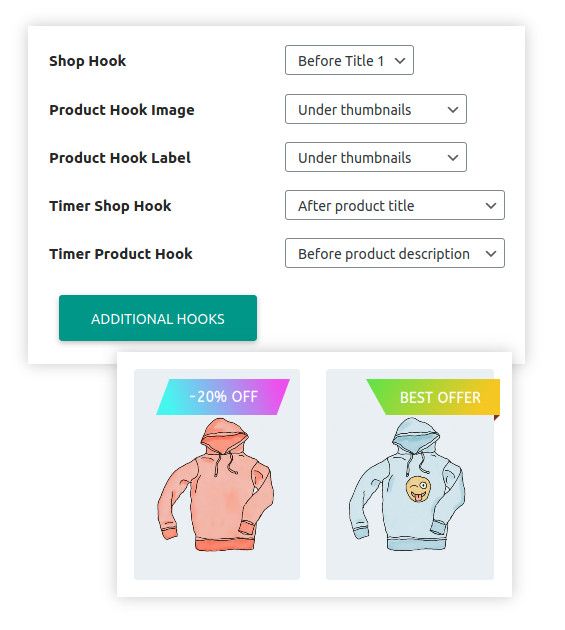 Discount Timer
Show users the time left for the discount end time.
This will grow up your sales in no time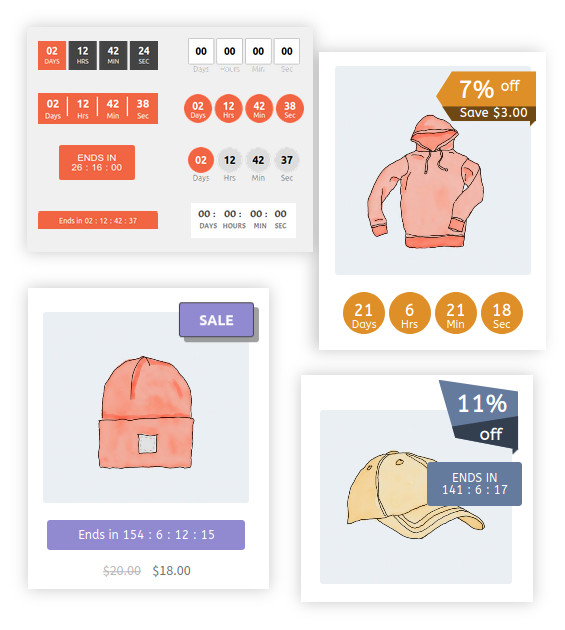 Shadow
Use shadow as a best way of highlighting your labels and adding more visual interest to your site.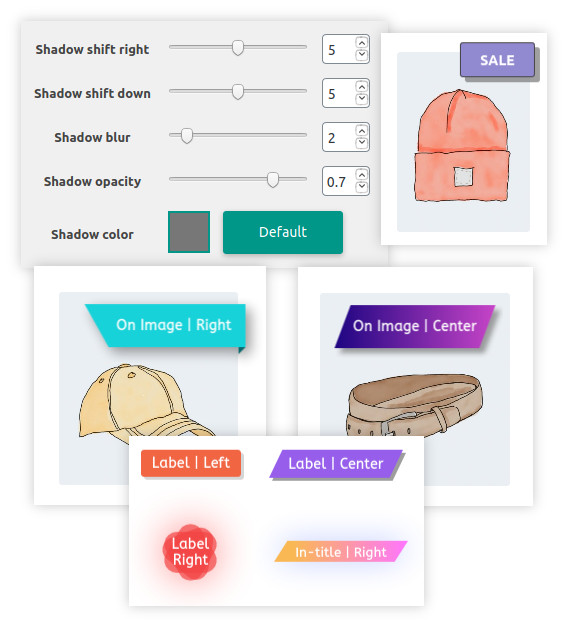 Label types
You can set your labels in the required position with Label type and Position options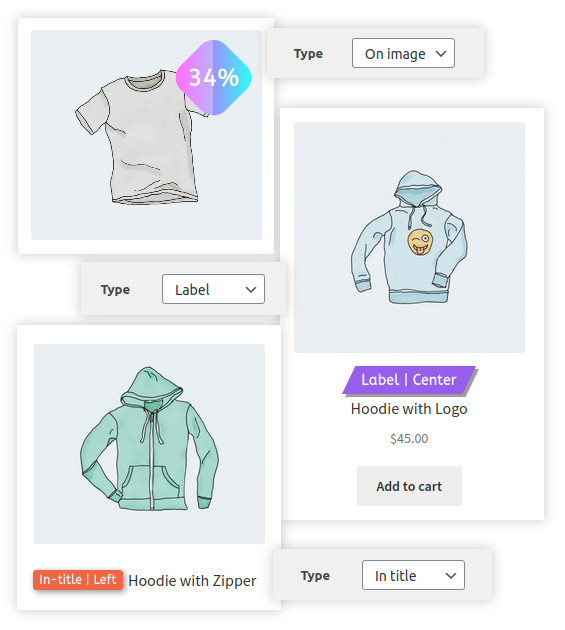 Label Size Multiplier
Want a bigger label? Not a problem!
Just swipe a Size Multiplier slider right and save the changes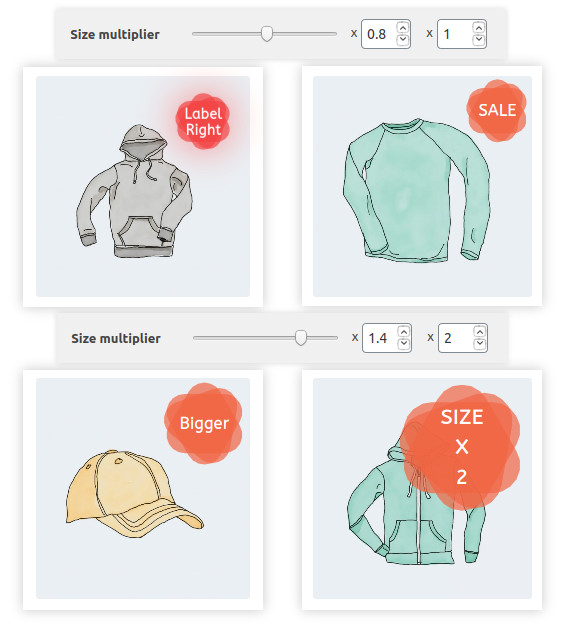 Label as a link
Some products have a notice or need a long description?
Add an url to the label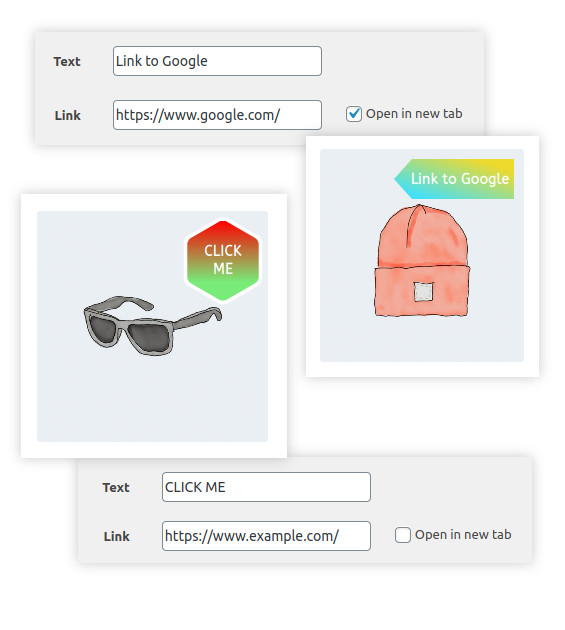 Shortcodes & Content types
Tag, Price or Category as a label? You got it! Use Content Type and Shortcodes for more dynamic labels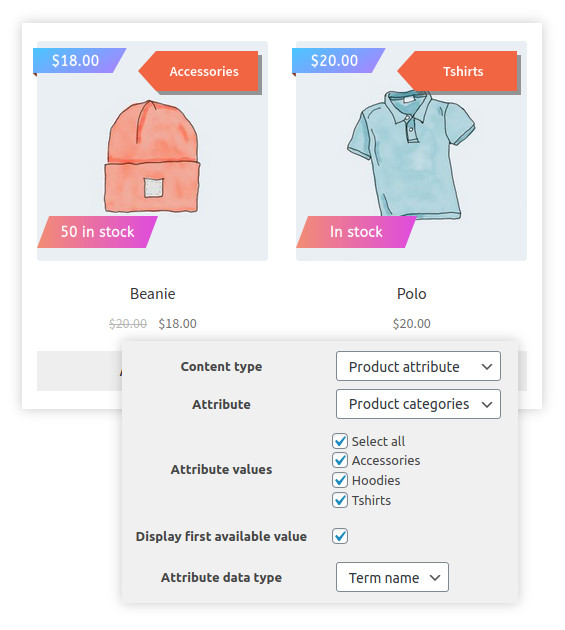 Tooltip
If you don't want to overload your labels with content - tooltip is the solution!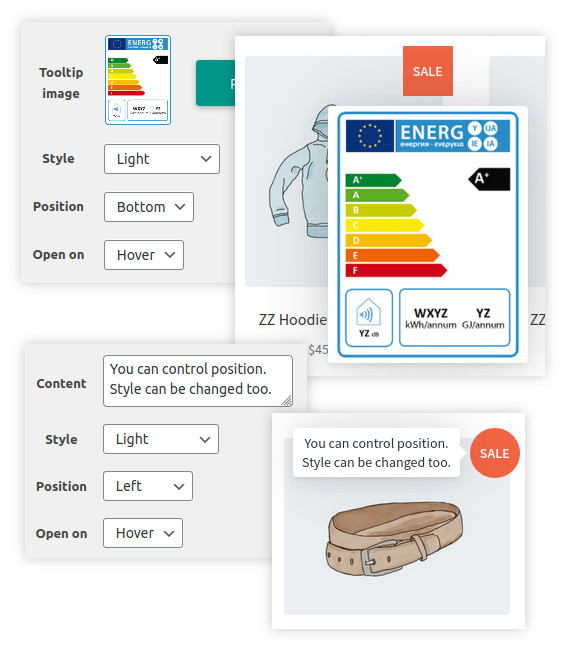 Conditions for the labels
Add labels to the needed products only. Use these conditions: category, product, price, sale, attribute, page ID and more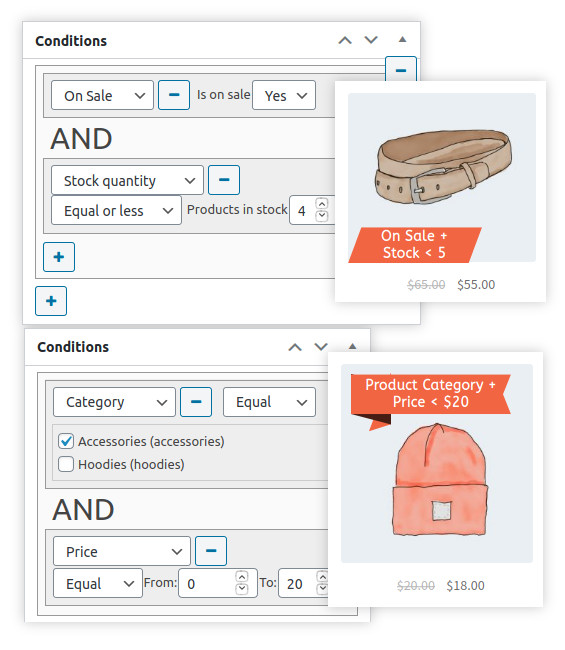 WPML and Polylang compatibility
EASILY TRANSLATE THE PLUGIN TO OTHER LANGUAGES WITH THE POWERFUL WPML AND POLYLANG TOOLS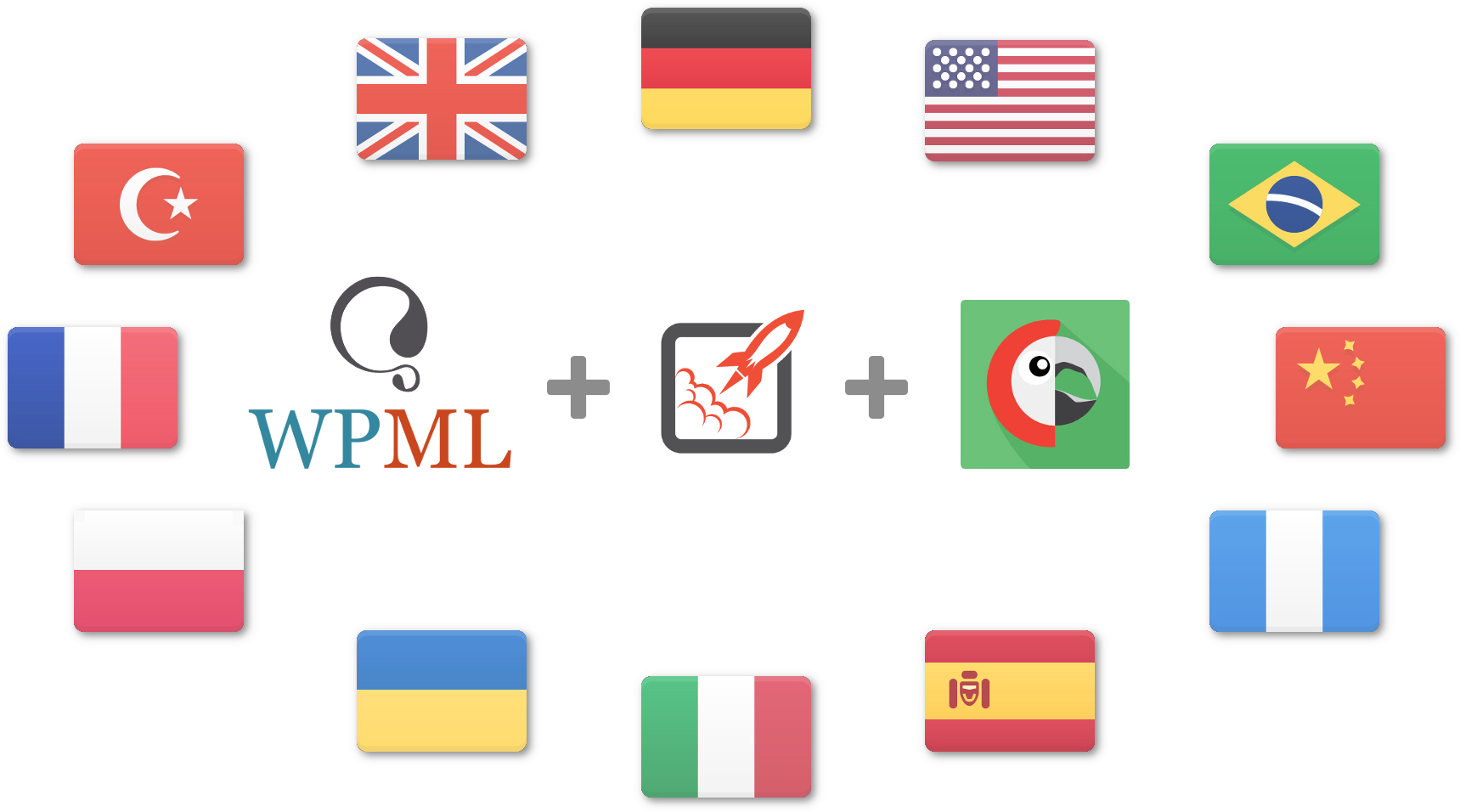 Compare the benefits

Free

download

Premium

5 ready to use CSS templates
Upload own image for the label
Label types (label, on image)
Custom position for each label
Label preview on the creation page
Label Content - Text
Label Content - Discount Percentage
Label Content - Price
Label Content - Stock Status
Text Before and Text After the main content with new line option
Label background and font colors
Google Fonts for the label
Font size
Stilization
Tooltips
Option to set hook for best theme compliance

Advanced Conditions for the products label will be attached to

Conditions by product, category, sale status, bestsellers, price, stock status, total sales, featured, product age, product type, product rating

Conditions can be mixed with AND or OR
Disable global labels option
Disable product labels option
Disable labels on product page option
Remove WooCommerce sale label option
WPML support
Polylang support
Label Size Multiplier
30 CSS templates
12 Advanced templates
14 image templates (not editable)
Gradient
Shadow
Opacity
Background Image for the label

Hide On selected device(s)

Mobile, tablet and/or desktop

Discount Timer with 8 templates to choose from

7 large templates located under the product image, 1 compact template located under the label

Label Content - Discount Amount
Label Content - Custom Discount
Label Content - Time left for discount
Label Content - Product attribute
Link with option to open in new tab
More options for stilization
Image for tooltip
Label types (label, on image, in title)

More Advanced Conditions

Conditions by product attribute, sale price, regular price, stock quantity, page ID

Shortcodes for the text fields

Configurable view for Product attribute values

Term name, image or color
3.2.0.5
Enhancement
New Condition for single product page
Animation for variations label
Fixes
Variations labels replace incorrect labels on the single product page
Some timers positions
3.2.0.4
Enhancement
Compatibility version: WooCommerce 5.0
Option to load Timers via AJAX
Use attribute condition for variations
Additional hooks for Timers
Fixes
Labels not displayed for variations
Incorrect place of Labels for variations
Attribute label types work incorrect
3.2.0.3
Fixes
Issue with product edit page
3.2.0.2
Enhancement
Compatibility version: PHP 8 and WooCommerce 4.9
Fixes
Position center is not working
No google fonts after AJAX loading
3.2.0.1
Fixes
Issue with product edit page
3.2
Enhancement
New add-on: Gradients. Use gradient for background
New add-on: Labels for Variations. Display label only for selected variations
New add-on: Timers. Display timer for product with time limited discount
16 new CSS templates
Shadow for CSS templates
Images for background for more templates
Fixes
Use default theme font by default
Attributes label issue
Other issues
3.1.10.1
Fixes
Issue with categories condition
Remove deprecated JavaScript event
3.1.10
Enhancement
12 Advanced templates
Label size multiplier for scaling complex labels
Addon Advanced Content: links for labels
Fixes
Labels Backorder stock status did not worked correctly. When condition was In Stock products with status On Backorder were shown.
%sale_p% discount for variable products was not correctly defined for very small and very big discounts.
Default values on change template
Labels and explanation texts
Other small fixes
3.1.9.1
Enhancement
Compatibility version: WooCommerce 4.5
3.1.9
Enhancement
Position addaptive labels
Label size multiplier
Move JavaScript and CSS tab into single tab Javascript/CSS
Fixes
Code in product title area
Sometimes displayed activation message for free version of plugin
Other small fixes
3.1.8.1
Fixes
In-title label incompatibility with other plugins
3.1.8
Enhancement
In-title label
Dimensions for size values
Font Family from google fonts
Link for the label
New CSS templates
Fixes
Empty value in padding do not work
Empty value in margin do not work
Empty value in line-height do not work
3.1.7.7
Enhancement
Compatibility WooCommerce 4.1
3.1.7.6
Enhancement
Compatibility WooCommerce 4.0
3.1.7.5
Fixes
Compatibility version: WordPress 5.3 and WooCommerce 3.8
3.1.7.4
Enhancement
Single product labels is now deprecated
Fixes
Save labels on product edit page
3.1.7.3
Enhancement
Optimization to display labels. Remove some blocks if not needed
3.1.7.2
Fixes
New sorting incompatibility with WPML
3.1.7.1
Enhancement
Possibility to enable/disable Lables
Sorting for Labels
Fixes
Save settings on some sites
3.1.7
Enhancement
New Custom Image template
Text before and text after field for all content types
Opacity for label
Fixes
3.1.6.3
Enhancement
Optimization for labels search
Fixes
Links to BeRocket
Compatibility with other BeRocket plugins
3.1.6.2
Enhancement
Compatibility with other BeRocket plugins
Code Security
3.1.6.1
Fixes
3.1.6
Enhancement
Additional hooks for displaing labels (can cause errors, but provide more compatibility with themes)
Update BeRocket plugin framework 2.1
Fixes
Templates for labels
Fatal error with disabled WooCommerce
3.1.5
Fixes
Product Labels duplicate
Some styling do not work for attribute color label
Font awesome better compatibility with themes
Optimization
3.1.4.9
Fixes
On some sites labels creates with specific post status and do not work
3.1.4.8
Fixes
Stock status text
Templates, that was removed in previous version
Font Awesome 5 on some themes
3.1.4.7
Enhancement
Option to select position on product page
Compatibility with latest version of WooCommerce
Fixes
3.1.4.6
Fixes
3.1.4.5
Fixes
3.1.4.4
Fixes
Use all attributes if it is selected
New menu in multisite
3.1.4.3
Fixes
3.1.4.2
Enhancement
Better plugin menu items location
3.1.4.1
Fixes
Displayed labels with text "Label". Now Default Labels not displayed
Improved page load speed with a lot of products
3.1.4
Enhancement
Added Backorder to Condition
Checkboxes to add any labels to product
Tooltip for Label
Custom Discount text
Device to display Label(Mobile, Tablet, Desktop)
Option to copy Label settings from other Label
Price Label
Stock Status Label
Better Compatibility with Product Preview plugin
Fixes
3.1.3.1
Fixes
Center label position not same as left and right
Colors and images changed only after save
Javascript on page load doesn't work
3.1.3
Enhancement
Shipping Class condition
Featured products condition
Fixes
Fix custom post type table
3.1.2
Enhancement
Use text on label with image
Use image for discount label background
Option to remove default Sale label
Fixes
Label rotation with margin
"Time left for discount" label fix
Lines settings fix
3.1.1.1
Fixes
Some elements on products doesn't work
3.1.1
Fixes
Attribute condition doesn't saved
Color for attributes can't be picked after AJAX loading
Background color work incorrect with color attributes
3.1.0
Enhancement
Better position for labels
Paddings and margin for labels
Height and width options for label
Changed description for label settings
Better label preview
3.0.2
Enhancement
Fixes
Product search
Description for label
Position center with custom width
3.0.1
Enhancement
New settings style
Preview for label
Fixes
Style for label on image
Small fixes
2.0.6.5
Fixes
2.0.6.4
Enhancement
Recent woocommerce version support
New Admin notices
2.0.6.3
Fixes
2.0.6.2
Enhancement
Option to set labels position horizontally
Fixes
2.0.6.1
Fixes
fixes labels for product page
2.0.6
Enhancement
Height and width for label on image
Fixes
Better compatibility with WooCommerce 3.0
Remove PHP notices
Label styles fix
Sale price fix
2.0.5.2
Fixes
Compatibility with WooCommerce 3.0.0
WPML Compatibility
Compatibility with other plugins
2.0.5.1
Fixes
Compatibility with other plugins
Updater fix
2.0.5
Fixes
Sometimes lable settings doesn't work correct
Products type of condition doesn't work with new version of WooCommerce
Category type of condition doesn't work with new version of WooCommerce
Multiple conditions in one lable sometimes doesn't work
2.0.4
Enhancement
Labels displayed on single product pages
Labels can be added to products with specific attribute values
Labels can be rotated from -90deg to 90deg
Fixes
WordPress media library doesn't work on some pages
Labels compatible with WPML
2.0.3
Fixes
More compatibility with old version of PHP
Product search for labels doesn't work
Media library doesn't work on some pages
Discount percentage doesn't work correct with variations
2.0.2
Enhancement
Customization for labels
Additional types of labels
2.0.1
BeRocket Account Key and Plugin Key are used for an auto-update of plugins.
You can find Account Key on BeRocket site on My Account page.
You can find Account Key on the right side of the page.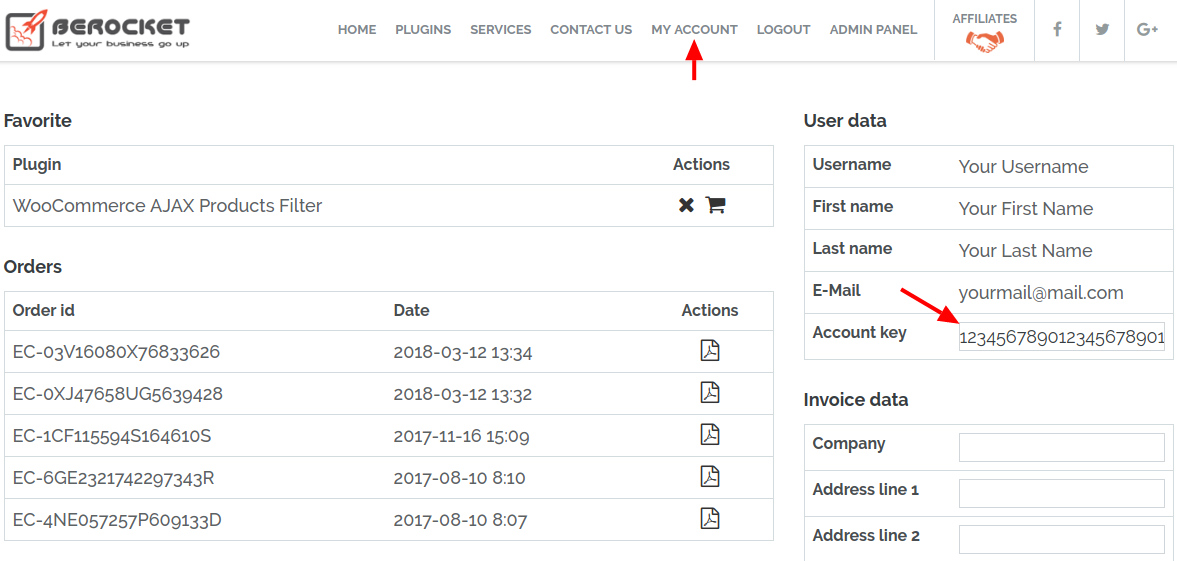 You can find Plugin Key on BeRocket site on My Account page by clicking on the key icon on the right side from the plugin name WooCommerce Advanced Product Labels. Plugin Key will be displayed below the list of plugins.

Related Plugins: